 As we're travelling home for Christmas and don't want to lug around case-fulls of presents on our trip (sorry to conform to a cliché but I really do need that space for shoes) present buying will be a very last minute affair this year. Getting gifts for the ladies in my life shouldn't be too difficult, even on the hoof, but the blokes are another headache altogether. There was a time when books, CDs, or DVD box sets were easy go-to gifts for lads but now that everything's gone digital, hard copies have fallen right out of favour with most gadget fiends.
Here are a couple of ideas that might do in their place without giving you away as a last minute Lynnie...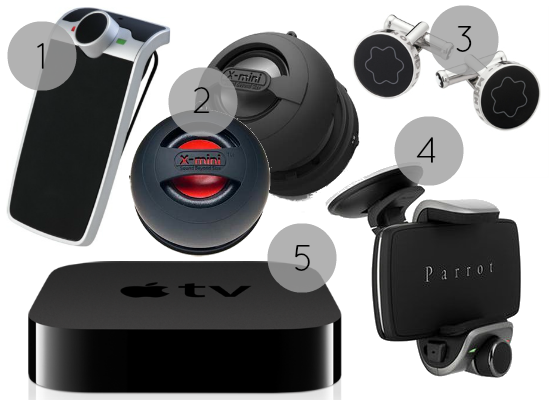 ONE
This tidy Bluetooth Parrot Minikit clips onto a car's sun visor to enable handsfree phonecalls, and synchronises with phone contacts for touch-free voice dialling.
Halfords; usually €64.99, now €35
TWO
The quality of speakers on mobile phones leaves something to be desired - something like these ultra-portable external ones, perhaps? Wireless versions like the one on the right can stream music from up to 10m away via Bluetooth and so make excellent shower companions - provided he doesn't actually bring it into the shower, like.
(L) Quaser X-mini II capsule speaker, €29.95, and (R) X-mini Kai speaker, €89.95; both at Arnotts
THREE
Not strictly gadget-y, of course, but a nice pair of cufflinks are always a good bet. And maybe you could give a spiel about how they make him look very Bond?
Mont Blanc at Wiers for illustration purposes only, €320 
Advertised
FOUR
If I still had a car, I might be interested in this for myself. Made by the same people who brought you Number One, this nifty mount works with most smartphones, holding them in place and relaying spoken instructions through its speakers so they can be used as a sat nav as well as functioning as a Bluetooth hands-free kit.
Parrot Minikit Smart; Carphone Warehouse / O2 / Vodafone, €59
FIVE
What to get the Apple fanboy who has iEverything? How about Apple TV for playing films and TV purchased from iTunes etc on The Big Telly? Perfect! Unless, of course, he already has it...
Apple; €109
For vouchers that might actually get used, music streaming service Spotify has (finally) landed in Ireland, and gift subscriptions are available for €9.99 - €119.88 to give the gift of (almost) every song ever on all their devices for one, three, six or nine months (for movie buffs, Netflix offer similar gift subscriptions.)
And for something a bit less spendy, how about an Amazon e-voucher (good for Kindle users; can be set to deliver to the recipient by email on Christmas Day) or an iTunes gift card (widely available from the likes of Argos, phone shops, electrical retailers, etc) to enable him to buy the books or music of his choice.
Now if that's not enough suggestions we also have another Gift Guide for buying for the men in your life for some extra inspiration!
Advertised
If you find yourself in need of a last minute blokey gift, what will you turn to?