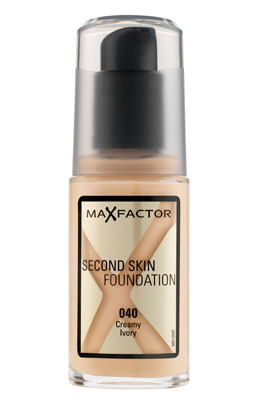 Lets start with the claim: "Max Factor's first foundation that works in sync with your skin". Did I think this was true of the recently-launched Second Skin Foundation, €21.50? Well yes, yes, in one striking instance I did, because the brand sent a good shade - Creamy Ivory 040 - to try, so it suited me straight off.
A good start and refreshing in itself, because most companies send me dark beige shades and I just don't even bother to uncap them in that case. And while I thought this might have a little too much grey pigment in it at first glance, when I tried it, I was pleased with the results. It goes on initially like a fairly regular medium-coverage base but almost immediately does a melty thing and matches your skin really well.  Now, it is really quite sheer and not for anyone who likes a lot of coverage - DoubleWear fans, I'm talking about you - but I have found that I am going lighter and lighter with my base recently and this is a really nice fit for day.
It's also very moisturising - there's 60% water in the mix - and in fact looks too glowy when I set it with my trusty MAC Mineralize Skinfinish, so I use a little loose powder instead.  If you've got a normal-to-dry complexion and like tinted moisturisers (and I honestly don't, they always give me a congested chin) then you'll like this too I think, as it's a nicer texture and gives a better finish. Similarly, if you like a very light, glowy base then you'll find it nice as well. You won't plump for this if you go for medium-to-full or matte coverage, if you've quite oily skin or find that base doesn't last.
Advertised
The magic all happens thanks to "an advanced formulation containing a blend of specially treated high-resolution pigments which allows Second Skin to mimic the multi-chromatic look of perfect, real skin, leaving it glowing and radiant." Whatever about that appliance of science-speak, this is a good buy - not too steeply priced, it's widely available and the 30ml pump dispenses an ideal amount of product for a face-full. The only downside is that, as a more mid-priced buy, the shade choice isn't that great, with just five choices on offer: Creamy Ivory, Warm Almond, Natural, Golden and Bronze.
Have you tried it yet? What did you think?