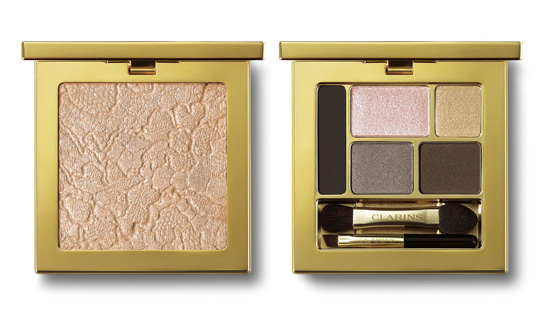 Let me just begin by saying, this is a seriously impressive launch from Clarins.
Inside the standard red boxes their makeup line comes in are two compacts that are so beautiful, weighty and well-designed that they absolutely deserve their fairly hefty price tag. You can see the pair above, and they really are the stars of this show. Reinforcing the theme of gold and opulence that characterises this collection, each of the gold metal compacts weighs in (yes, I actually did weigh them) at about 180g, which affords them heft in the hand, giving them a real feel of luxury. Oh, and they're going to incite severe bathroom envy too.
On the left is the collector face palette, €60. It's a finishing step for makeup and can be used to set foundation (my pick) or used as a highlighter over powder. To the right is the collector eyes palette, also €60. It's got four shadow shades (quite similar to Lancome's offering) as well as a deep brown cream liner. Two wee brushes and a decent mirror complete the offering. The brand's shadows have improved out of bounds recently and the old gold shade, top right, is particularly good.
There's even more Clarins goodness after the cut.
Advertised
The other thing that's good about the Palazzo D'Oro collection is that there isn't too much of it - Clarins aren't bamboozling us with 20 products, so to support the stand-out compacts, there are just three extras, already in the range but updated for Christmas.
There's the now-classic Instant Light Complexion Perfector, €27.12, in Gold Shimmer, Wonder Volume Mascara in Black Reflections (black with a slight shimmer) for €24.11 and a Joli Rouge lipstick in Gold Reflections, €20.09. This provides a topcoat of sheer sparkle so would be lovely layered over a burgundy or red.
Colour me impressed, anyway - what do you lot reckon?