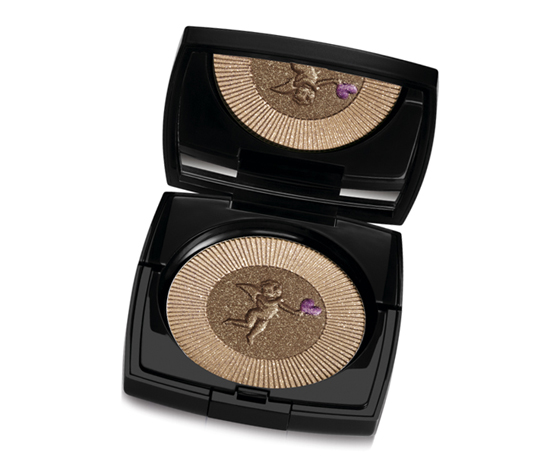 There's the star of Lancome's Christmas collection above, starring their mascot - it's the Sparkling Cherub Warming Illuminating Powder and it's €42. Used brushed over makeup, it gives that party season sparkle you can pretty much only get away with during the festive season - that is, if you can actually bear to use it. Pretty, eh?
Check after the cut for a few more pix and prices for some more products in the line-up.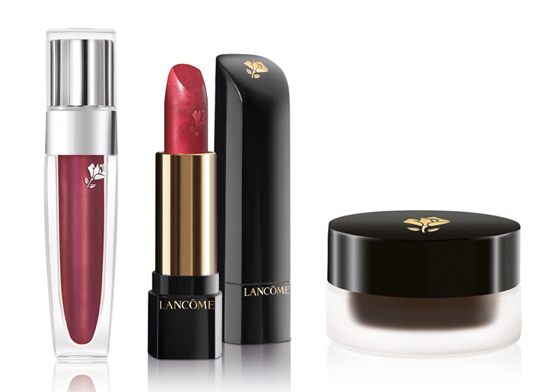 I am a very major fan of Lancome's Colour Fever glosses -  in fact, I'd say they're probably my favourite gloss to use. This one is called Glossy Plum, comes in at €20 and is going to be the pick for anyone who likes the berry lip thing that's doing the rounds, but who is scared of the full-on opaque effect. Some golden iridescence in the mix makes it really sparkle on lips. Lovely.
Beside it is one of two L'Absolu Rouge lipsticks. I also think these babies are an excellent matte choice and I wear the red from the Declaring Indigo launch all the time. Longevity mixed with a brilliant colour and a finish I like, makes it one of the lipsticks that's topping my chart recently. Rouge Preciosa is what you can see above and in the flesh it's a lot deeper than the image. In the bullet it almost seems brown-toned but on skin, there's a lot of fuschia in there which makes it stand out. One more shade is also on offer, Boise de Rose, a nude-beige enhanced with a hint of plum. They're €25 a pop.
Advertised
Lastly for pix we have one of Aaron de Mey's innovations for the brand, Ink Artliner, €28.50. I've already got it in black and this collection adds two more, a deep brown and a black-shot-with-multicoloured sparkles. I've got the Intense Brown Ink version though naturally I covet the much more fun-sounding Black Sparkling Ink.
The collection also includes some more goodies for eyes:
Ôscillation Sparkles
Yay! Two new whizzy mascaras lauch in gold and silver. I don't care if they're gimmicks, they're fab. €35 a go
Ombre Absolue Quad in Feline Plum
This quad palette features plums, minks and pinks for a new take on the classic black smokey eye. It's €45 and might be the thing to convince me that plum on eyes won't make me look like a swine flu victim.
So when can you bag yourself some goodness? The collection will debut on counter on November 1st.