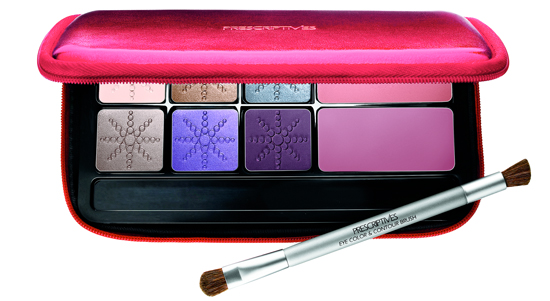 Sad and all as I am that beauty brand Prescriptives will cease to exist after Christmas, we do still have a couple of months left to buy up favoured items and gift (or self-gift) goodies for the festive season. It's just as well they have some lovely things on offer this year, then, eh?
Above you can see the really, really pretty Holiday Cheek and Eye Refillable Palette, €65, which comes in cool and warm options. Cool's got six full-size U-Pick Eye Colors in Blackberry, Storm, Chiffon, Plum Smoke, Orchid and Sweet Chocolate, two full-size  U-Pick Cheek Colors in Pink Plum and Rosette as well as a decent brush. Warm has six full-size U-Pick Eye Colors in Sage, Champagne, Espresso, Lemondrop, Brunette and Honey as well two full-size U-Pick Cheek Colors in Ginger and Pink Horizon, and that nice wee brush. Both varieties come in a gorgeous red zippered case with a big mirror inside the lid. Divine.
Two more picks from the Lustre collection are after the cut.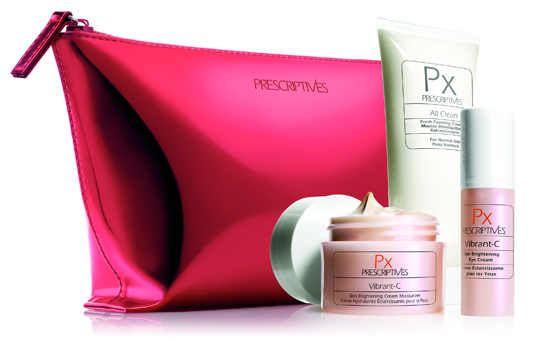 This is the Px Brighteners kit and it's €57. One of the things I'll miss most about the brand is their skincare - Super Line Preventor Xtreme is one of my all-time favourite products and what's in this gift is also great. You get a full-sized Vibrant-C Skin Brightening Eye Cream, a one ounce Vibrant-C Skin Brightening Cream Moisturizer and a 3.4 ounce All Clean Fresh Foaming Cleanser (not sure what this ounces business is all about, being Metric-focused). They come in a high-shine cosmetic bag.
Advertised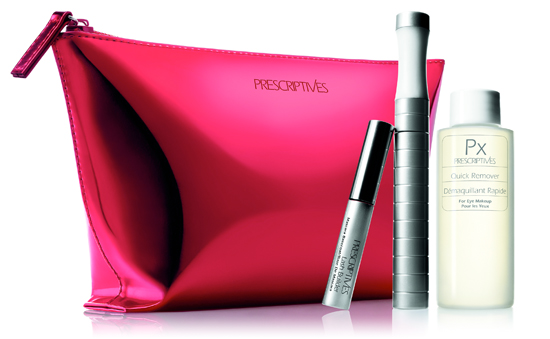 The last pic I have for you is of the Eyelights Lash Envy Mascara set, €35.  You get a full-size Lash Envy Volumizing Mascara in Black, a small Lash Builder Mascara Basecoat and a two ounce Quick Remover for Eye Makeup as well as that glam beauty bag.
Prescriptives are going out with a bang and there are other gift sets for makeup, skincare and fragrance on offer too:
Px Rebuilders, €96
Px Mini Moonbeams Lip Gloss, €25
Px Mineral Color All Over, €53
Calyx Exhilarating Collection, €69
Check 'em all out at Brown Thomas, Dublin and House of Fraser, Dundrum now.