 Last week, we tackled hero products for dry and mature skin. Now it's the oily folks turn. Oily skin has its own particular set of needs, and as with any skin type, there are advantages and disadvantages to having it.
The fact is that slightly excessive sebum production is the normal way of things for oilier skins, but there are things you can do to make it as balanced as possible, and there are certainly things you can do to throw it completely off balance.
Here are some products that will make all the difference in the fight against bag-of-chips face.
This glycolic peel is far from cheap at €37.95, but a good glycolic peel works wonders on oily, congested skin, promote cell turnover in the skin and ultimately keep blockages from occurring in the first place. It's called liquid gold for a reason! If you want to know more about glycolic acid and what it actually does for your skin, have a look at this demystifying article.
La Roche Posay Effaclar Duo Plus
I positively swear by this wonder product from French pharmacy brand La Roche Posay. As well as many other balancing ingredients, it's loaded with salicylic acid, which is fat soluble. This means that it is one of the few ingredients which can actually permeate a sebum-plugged pore and more or less dissolve and loosen the stuff inside. Since blocked pores are the cause of blemish and inflammation, this goes a long way to clearing up the skin.
Again, it's not very cheap at €17.99 (it's currently on offer at Boots and usually costs around €22) but its effectiveness makes it worth it. This isn't alcohol heavy or very drying like targeted spot treatments, and it actually works. 'Nuff said.
Super Facialist Vitamin C + Skin Renew Cleansing Oil
Advertised
I've adored this cleansing oil since I first reviewed it over a year ago. If your skin is oily, you can absolutely use a cleansing oil. In fact, an oil or balm is probably the best possible cleanser for your skin type. Foaming washes and alcohol-based acne treatments will strip the skin of oil. The first response the skin will have is to produce much more oil to compensate, causing breakouts and increased oiliness and congestion.
Alcohol will also dehydrate your skin, so you'll end up with the worst of both worlds - oily skin and dry patches all in the same place! This cleansing oil will thoroughly cleanse skin without encouraging more oil production. Your skin will be happy and you'll have yourself a lovely big bottle of cleanser for under €14!
Shiseido Pureness Oil Control Blotting Paper
These are on rather the fancy side at €23 for a hundred sheets, but you can find very affordable versions in any pharmacy. A large part of oily skin is management; it takes a little bit of work to keep it in good fettle, but you'll be glad you made the effort.
Have a look at your skin a couple of times throughout the day an blot away the extra shine with these little fellows. They solve the problem immediately and without disturbing your makeup. A much better solution than lacing your face with astringents at night!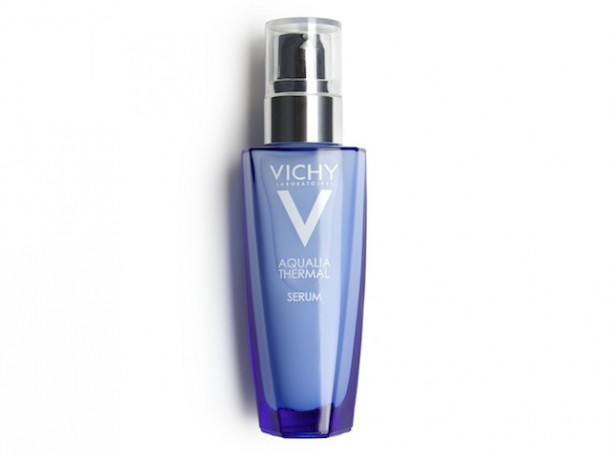 Vichy Aqualia Thermal Serum
With oily skin, it's easy to become obsessed with depriving it of oil. When focussing on using oil-free this and that (which isn't really necessary for the most part anyway), we can forget that oily skin still needs hydration. It will become dry and flaky if you forget to use something hydrating on it, and to drink water.
The Aqualia Thermal Serum from Vichy's Aqualia range is great and very affordable at €24. If you can handle the scent, it will hydrate oil skin beautifully without interfering with oil production. It's just lovely.
What are your oily skin saviours? And what do you find the biggest challenge in dealing with oily skin? To the comments!
Advertised