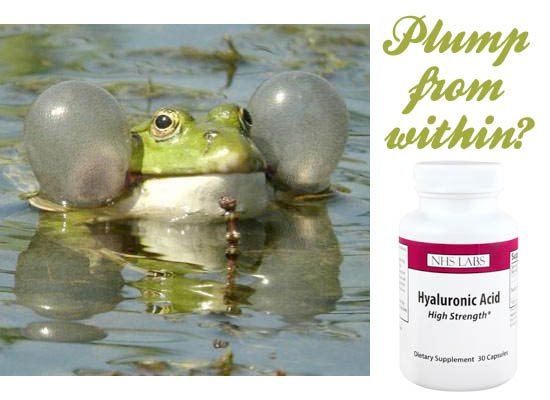 At a meeting yesterday with beauty PR Sophie and myself and Aisling, conversation of course turned to products and what we all used. "Hyaluronic acid supplements," declared Sophie, "I wouldn't be without them."
I had the notebook out by then and the pair of us were leaning forward. "Tell us more," instructed Aisling in a quiet, deadly serious voice, as I took notes.
"I swear to God, girls," Sophie enthused, "these really work. I have really noticed a difference. Hyaluronic acid is a water attractor and it's used in lots of creams, because it plumps skin from within. But what better way to take it than in a supplement?"
She goes for Solgar Hyaluronic Acid supplements which she gets from VictoriaHealth.com though I couldn't spot any on the site when I checked last night. They did have those babies above (NHS Labs Hyaluronic Acid Capsules High Strength, €40.01) though, which may well do the trick. Solgar.ie also have the ones Sophie tipped the nod to for €32, FYI.
Advertised
But lets get back to brass tacks. I wanted to know the how, the why and most importantly, the results. Most packs advise that you take one pill per day to get the benefits.  "I've got dry and sensitive skin," Sophie dished, "and for that reason I'm a big fan of oils too. I've noticed that since I sarted using the supplements my skin is plumper and especially so around the sides of my eyes. I have really noticed a reduction in lines here."
SOLD.
Have any of you lot checked out Hyaluronic Acid Supplements for yourself? Are they something you'd consider as part of an anti-ageing routine? I've got to say, I'm mighty tempted.