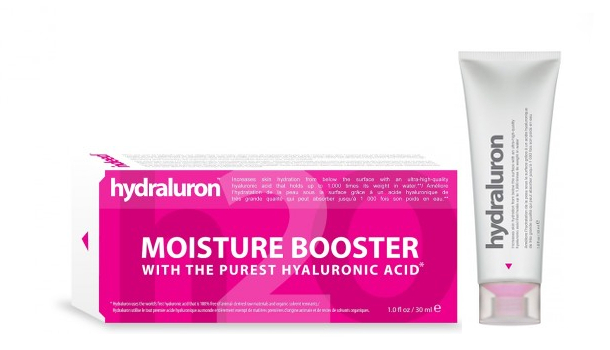 Hydraluron is the latest whizz bang offering from Indeed Labs to cause a stir in beauty circles and while it's available from Boots, you may never have clapped eyes on its neon pink and white packaging because it tends to sell like – well, not hot cakes in this weather. Mojitos, maybe.
Mmm, mojitos.
Anyway, the point is that this stuff is being whipped off the shelves by savvy beauty buyers as soon as it's restocked. The reason for Hydraluron's popularity? It's loaded with an ultra-pure grade of hyaluronic acid, and as we all know hyaluronic acid is totes flipping amaze for hydrating, plumping, and softening the skin as it can attract and hold up to 1,000 times its weight in water. This particular formula also contains a bio-engineered strain of marine red algae that causes mild, controlled stimulation of skin turnover, which ensures the thorough penetration of its hyaluronic acid content to the skin.
While it makes a positive difference to skin hydration from first application, with regular use Hydraluron improves the skin's own ability to retain moisture by providing below-the-surface hydration. This means that you should need to use less of your usual topical moisturiser on top of it to maintain optimum hydration levels. As a moisture booster, it helps to put paid to signs of premature aging caused by dehydration – which even oily skins can suffer from, remember – which often exacerbates the look of things like forehead lines and wrinkles.
Advertised
To be applied twice daily under your usual moisturising regime, Hydraluron is a scentless clear gel serum of a surprisingly liquid consistency. That's good because it means even oily skin doesn't feel overwhelmed by it, and also because it means a little goes a very long way - which it would want to, really, at nearly €30 for 30ml.
It hasn't caused any break outs or clogged my pores and I do think my forehead lines are looking a bit softer; I've also noticed that my skin doesn't feel quite as tight as usual after washing with water which leads me to believe that there is some deep-down hydration enabling going on. And after the recent few days of sunshine, which would usually cause my skin to take on a texture reminiscent of an elephant's hide, it just looks smooth and, well, normal.
Have you tried Hydraluron?