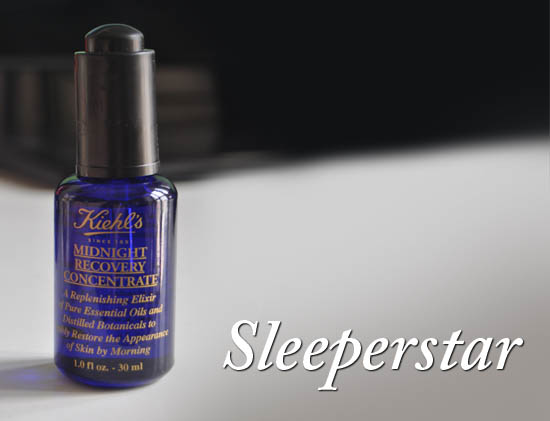 Skincare's a tricky beast and you often don't have that "wow" response you get with a particularly good colour cosmetic, because skin lotions and potions can take weeks to take effect in tiny increments. That means you generally don't notice dramatic changes as you blearily assess yourself in the bathroom mirror of a morning, and it'll take someone commenting on your complexion before you realise what you're using has, y'know, worked.
Except with Kiehl's new Midnight Recovery Concentrate, €42, I definitely noticed a result straight away. The morning after I first used it, my skin felt incredibly soft and has continued to stay that way. Ok, you might be thinking this is another Guerlain Issima Midnight Secret, and while this is for use before bed and the bottle is indigo, that's really where the similarities end.
Pat on two or three drops of this paraben-free botanical and essential oil-based serum, and it does the trick while you get your zeds. Designed to replenish the lipids in the skin and keep it healthy - which is basically what keeps the skin's barrier intact - it's a clear, light fluid that's remarkably non-oily considering it contains loads of botanical and essential oils. I'm finding it to be very nourishing, and here's why.
Advertised
Squalane (a botanical lipid), evening primrose, coriander and rosehip seed oils are the powerhouses here, dosing the skin with omegas 3, 6 and 9, and providing hydration and elasticity. On the essential oil side of things, lavender has a soothing effect and can reduce blotchiness, rosemary, geranium and rose oils provide brightening, purifying and softening properties.
The result is one that I think is measurable and I've been using this for about 10 days now, along with an extra drop or so of Trilogy Rosehip oil as a last step - I'm treating Midnight Recovery Concentrate like an extra-step serum based on its 'concentrate' moniker, and I never like to take chances with night time hydration because this is when skin does most of its hard repair work. Also, as it's quite light, the requisite two or three drops doesn't feel like enough for my skin, but equally I don't want to use the whole bottle up in double-quick time, so I'm working a mix.
The latest word on the Kiehl's store is that it'll open at the beginning of July, which is also happily when this little bottle of magic will arrive on counter. Get saving - this is a keeper.