 I'm always rabbiting on about facial oils, and yes, that's because they're really great. It can be easy to forget that oils are good for pretty much everything. Fish oil supplements are great for joints, brain and skin, but you don't have to ingest the oil in supplement form for it to do you some good. Oils work wonders for body, hair, face and the senses. Here are a few of my favourite oil-based products at the moment!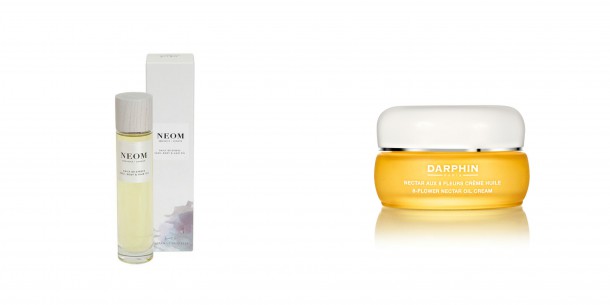 NEOM Daily De-Stress Face, Body and Hair Oil (€38)
This oil is an absolute treat to the senses. I can't recommend it enough. It contains jojoba, lavender, jasmine, Brazilian rosewood and lots of other essential oils. The blend is designed to relax and de-stress you, so it's perfect before bed. It will tame hair, moisturise the face and body, and just set you at ease before bed after a bad day. It's the perfect gift (or self gift, if you're me!)
Darphin 8-Flower Nectar Oil Cream (€70)
This stuff is pricey in the extreme, but it's a super-rich version of Darphin's fan-fricking-tastic 8-Flower Nectar Oil. This cream contains all the same oils, but with the addition of shea butter which makes it completely ideal for mature skin, or very stressed and chapped younger skin. It smells like jasmine and hugs and happiness. Honestly, it is just divine.
Advertised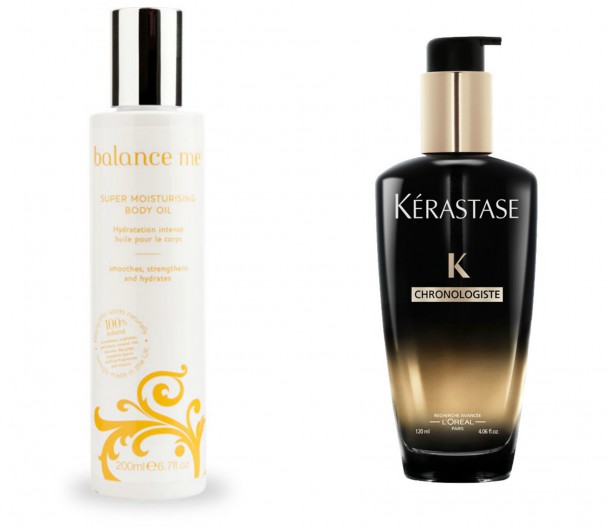 Balance Me Super Moisturising Body Oil (£24.50)
This is petroleum and nut-free, and is a brilliant body oil for everything from crispy winter legs to baby bumps. Neroli, coconut and rosehip oils (among others) make this deliciously fragrant oil close to perfection. Since it's light in consistency but hard working, it's perfect popped down shins before evening shenanigans for that sheeny leg look. Look out for it online.
Kérastase Chronologiste Oil (€39)
Advertised
Beaut.ie women have a long history of turning to Kérastase when our hair is utterly fecked, and the brand always seems to rescue even the most dilapidated tresses. This new hair oil is part worker, part luxury product. It is essentially a hair perfume within an oil. It adds softness and defuzzes finishes styles while infusing the hair with a subtly delicious scent, which will garner compliments. It's pricey, but very nice indeed.
Which are your favourite oil-based products? Share them in the comments!