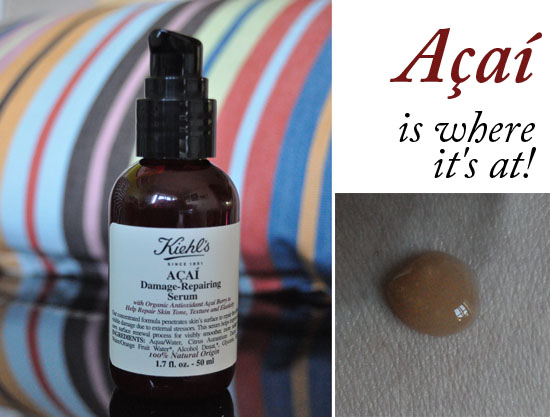 When Kiehl's opened up its first Irish store on Wicklow Street in Dublin recently, I was among the many who couldn't wait to get in and browse the shelves of this New York-born, apothecary-style skin and haircare company. As well as buying some much-loved items I'd previously tried on trips to the US in the past, I also came away with their new Açaí Damage Repairing Serum, €43.
You've probably been living under a rock if you haven't heard of the açaí berry before now. Goji berries are so 2007 and you can forget about the humble blueberry, because açaí is where it's at these days. Pronounced ah-sigh-ee (in case you wondered), this little wonder-fruit is packed full of antioxidants (more than any other known fruit, apparently), as well as being rich in essential fatty acids, Omega 3, Omega 6, Omega 9, plant sterols and Vitamin C. They make an ideal skincare ingredient - the antioxidants help to eliminate the free radicals that cause skin ageing and the essential fatty acids help to moisturise the skin and smooth the appearance of fine lines.
I must admit that I approached it with a slight sense of scepticism. Very often skincare products shout loudly about the inclusion of certain active natural ingredients, only for those ingredients to be listed very far down in the list, meaning the concentration is so low as to be meaningless. That's not the case here, however, with the açaí pulp powder listed quite high up in the ingredients - a promising sign.
The serum is a brownish colour and is water-based, so it sinks in very easily and doesn't leave the surface of the skin feeling oily (although it does contain many beneficial plant oils). There is a strong, slightly medicinal lavender fragrance to it, and although I wasn't that keen on it to begin with, I've become used to it.
Advertised
So does the serum live up to the claims made for the miracle berry? Well despite my initial scepticism, I must admit I've noticed quite an improvement in skintone and texture since I started using it. My skin looks much more even-toned, feels smoother and is fresher and brighter looking in general.
I have been using it only at night after cleansing so far, but the antioxidant content means this would be ideal to apply before sunscreen in the morning too (and do ensure that you wear a sunscreen while using something such as this, to make sure that you don't undo all the benefits your skin reaps from the product by exposing it to UV damage).
Açaí Damage Repairing Serum has definitely earned a permanent place in my bathroom cabinet and is well worth a try if you find yourself in a Kiehl's store anytime soon.