 My favourite skincare products tend to be the ones that simply work – no fancy packaging or sexy ads or celebrity "ambassadors" necessary – and Kiehl's Midnight Recovery Concentrate is one that does exactly what it says on the bottle. I repurchased over the weekend after a break of several months and, just three uses into the new bottle, I'm wondering how I ever lived without it and considering renaming the dog in its honour.
Midnight Recovery Concentrate is a paraben-free, mineral oil free blend of botanical and essential oils formulated to replenish the skin's lipid barrier while you sleep. It's on the spendy side, at €42 for 30ml, but a little goes a long, long way (and you can always snag a sample to trial before you shell out, which is how I got hooked on the stuff originally.)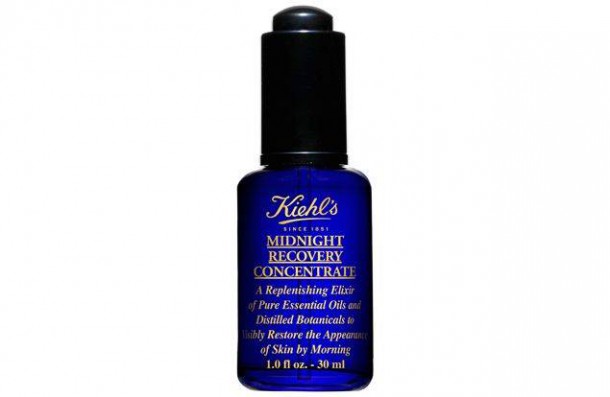 Press just 2-3 drops into skin before bedtime and key ingredients including squalane (a skin-healing botanical lipid), evening primrose oil (jammers with Omega-6 and essential fatty acids) and lavender oil (to soothe inflamed or irritated skin and promotes even skintone) deliver an intensive moisture boost to dehydrated skin when it's at its most receptive.
All those oils make Midnight Recovery Concentrate sound like it could be a combo-to-oily skintype's worst nightmare, but it's surprisingly light in texture and one of the only serum-ish products that have never given me a problem with blemishes or clogged pores. In fact, I've noticed that it has already significantly reduced the redness of some of my pre-existing post blemish scarring.
Advertised
Currently I'm using two drops as a night cream and my combo-to-oily skin is loving it; drier skintypes would probably benefit from layering it underneath their usual moisturiser.
It is pretty amazing to go to bed – late, again – with a greyish, knackered-looking complexion and then wake up to perfectly hydrated skin, diminished dehydration lines, and a well-rested radiance that I absolutely don't deserve, but this little elixir makes it happen.
LUV U, Kiehl's Midnight Recovery Concentrate!
Are you using anything so fancy pants too that you'd sell your granny to keep up your habit?