 I recently revealed the extent of my skincare obsession to you all here on Beaut.ie. In a way, it's liberating - I don't have to hide the extent of my obsessive craziness any more. It also means that you'll have an idea of just what it means when I say that this new offering from Kiehl's is the best moisturiser I have ever, ever used.
Ever.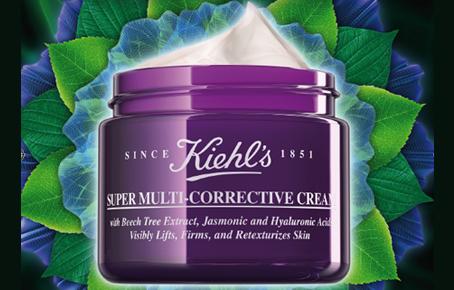 This is essentially an anti-aging moisturiser (I know - I don't entirely believe in that terminology either). However, maintaining my skin's oil, moisture and PH balance does make sense to me. Protecting skin from extreme dryness, dehydration, sun exposure and stress can only help it to age...gracefully. I've maintained a regimental skincare regime since the age of fourteen, but the ageing of my skin only became something to think about when I hit twenty five. So this moisturiser will be best for mature skin or at the very least, skin over twenty five.
(I should clarify that I absolutely don't consider twenty-something skin as requiring anti-ageing products. It's simply a maintenance issue for me, and this stuff is maintaining my face like there's no tomorrow!)
Jammed with hyaluronic acid, this moisturiser hydrates the skin beautifully. I use it in conjunction with Hydraluron serum to optimise the goodness. It has a rich, luxuriant consistency and has a pleasingly medicinal smell (from the beech tree extract) that makes me feel like I'm doing something nice for my face, and I can both feel and see the difference when I wake up in the morning.
Advertised
Given that I have oily skin, I use this about four times a week at night - it's a bit heavy for my oily skin during the day. I did give this to my mom to test. She's been using it twice a day and the improvement in her skin is visible. It's soft, radiant and without any trace of the dryness it had before. There's even a significant improvement in her dermatitis. More tellingly, she won't give it back to me. That's always a good sign...
I can honestly say that I will never be without this moisturiser again. There is nothing bad to be said about it, and I love it.
Super Multi-Corrective Cream is available from Kiehl's for €56 and a little goes a very long way.
Do you think you'll be giving it a go?