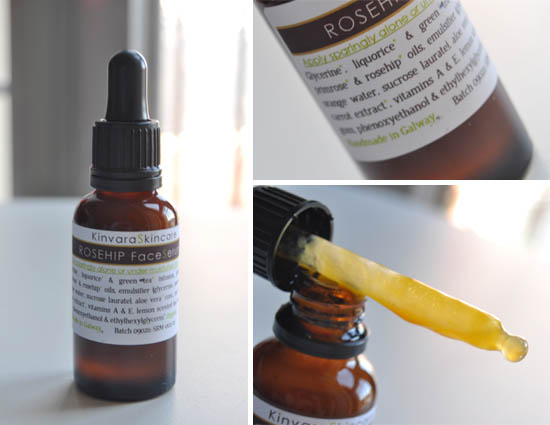 The ever-wonderful Principessa, mistress of all she surveys over at Swap Siopa, has the lowdown on Kinvara Skincare Rosehip Face Serum for us today. Take it away, missis:
Nothing brings out the green-eyed monster faster than goodie bag envy at a Beaut.ie event. I have to confess to struggling with the ugliest of deadly sins when I saw Cornflakegirl lovingly caress her bottle of Kinvara Skincare Rosehip Face Serum at the Beaut.ie Meet-up. I looove apothecary type packaging, so much so I even considered doing a sly bag swap under the table.
I managed to resist resorting to theft and was rewarded when I got home and had a proper looksie in my goodie bag – lurking right down the bottom of the bag there was my very own little brown bottle of Kinvara loveliness.
Opening the bottle I was greeted with a gorgeous lemon sherbet scent, and my heart sank. You see, my skin is sensitive and particularly reactive to perfume even some natural scents. And according to the ingredients list the scent was lemon scented tea tree, which I reckoned would be way too harsh for my skin. Bitterly disappointed I put this in my stash, and made a mental note to swap it in Swap Siopa.
Necessity really is the mother of invention, or something like that, because I reached the end of my Clinique Repairwear Laser Focus Serum, which I was seriously not loving. So, in need of a serum and being broke I decided to give the Kinvara a second chance. I dapped a bit behind my ear to do a sensitivity test, and whaddya know - my skin didn't react! No itching, no redness, no flaking - success!
Advertised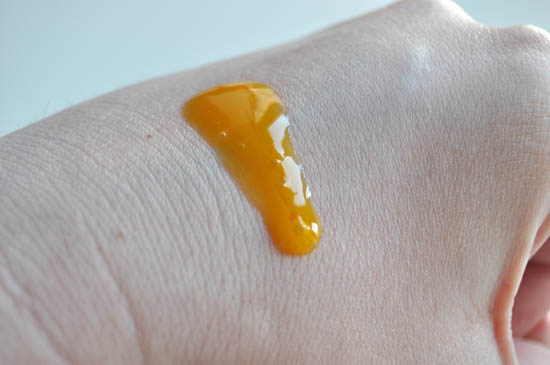 So, what's it like? Well it smells edibly gorgeous, it does benefit from a good shake before use, and it is orange – Dermalogica Multivitamin Power Recovery Mask burns victim mask orange!
At €26.95 for 30ml the price is on a par with Trilogy's Rosehip Oil. The bottle lasted me three months, but I think I probably over used it initially. I did get a little congestion at first, but that was from overuse. One drop is enough to do my whole face. I put a drop in the palm of my hand, and then use my fingertips to pat it onto my just washed face.
My skin is soft, clear with no irritation and, extremely rare for me, no dry patches. I'm using this in the morning, one drop followed by one drop of Clinique's Dramatically Different Moisturiser, which is way less moisturiser than I used to use, and my foundation is looking better and lasting longer. At night I'm trialling my sample of Bioeffect EGF serum.  The combination of both of these is leaving me with a definite softening of wrinkles laughter lines! And if the lovely lemon sherbet scent isn't for you they can provide it without essential oils.
I checked with Dr. Joanne Reilly, Kinvara's creator as to whether I'd go with the unscented version, this is what she had to say "Tea tree often puts people off as it can smell very medicinal and its been around a while – in fact the tea tree I use is actually a different species botanically speaking, it's a relative of the manuka bush but is commonly referred to as the lemon scented tea tree – I love it but you know people with tricky skin should always do a patch test first."
Advertised
I love that Kinvara is an Irish business, and a green one too! The products do NOT contain parabens, SLS/SLES, synthetics, fragrances, phthalates, mineral oils, petroleum derivatives, animal derivatives, or artificial colourants and they do not test on animals. Where possible they use local Irish ingredients, and the others are organic and /or fair trade.
How much do I like this? I'm about to order a bottle on-line from Kinvara which probably tells you all you need to know. Don't just take my word for it, if you ask nicely the lovely Kinvara folk will send you a free sample.