 I wrote earlier in the week about a deep cleanse facial I went for - and many of you felt it was on the 'spensive side.  Which it was.  So imagine my joy and delight to hear of the totally bargainalicious Lancome facial available in Arnotts at the moment.
Arnotts have a teeny secret salon!  At the back of the beauty hall hides a treatment room where you can go to get your facial on.  I hurried in during the week to check it out and I really needed to because the aforementioned deep cleanse facial had dried the almighty feck out of my skin.
"I really need some moisturisation" I told lovely skincare specialist Sheena.  And she moisturised to the max.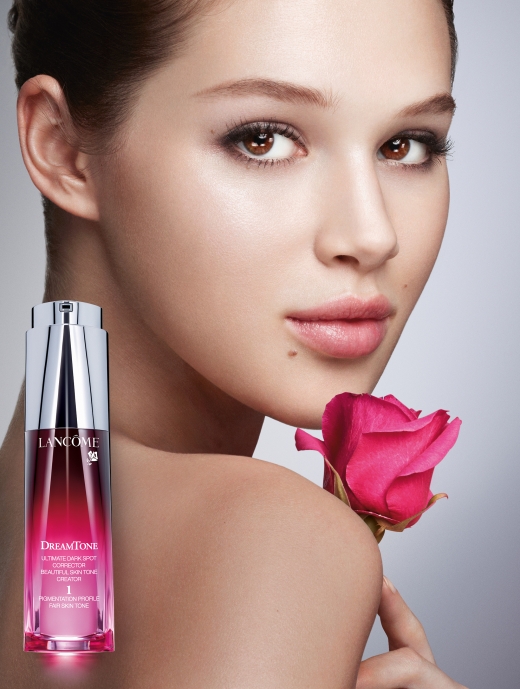 Advertised
Lancome products were used to cleanse, exfoliate, moisturise with a mask, Dream Tone Serum was applied (which I'm using at the moment in the hope it will invisibilise my pigmentation patches - read the review here) and finally there was some more moisturiser.  My skin looked and felt much, much better straight away.  Then some light (moisturising) makeup was applied and I was free to face the world again - not as the dried up husk I was when I entered the secret treatment room, but as a full member of society.
Your facial and the products used will of course differ depending on your skintype.  The facial costs €40 and (this is the best bit) is fully redeemable against products.  So if you were thinking of having a Lancome splurge, want to try out the new DreamTone Serum or just need to rebuy your regular Lancome Hydra Zen for example this is the perfect time to do it.
DreamTone Facials are available from Sept 9th - and you must book as availability is limited.  The secret treatment room is amazing, but it can only hold one person at a time, so phone 01 8050400 to book.