 If you suffer from dark spots or uneven skin pigmentation be prepared to get genuinely excited.
And I mean it. Genuinely.  Excited.
I have a pig patch of dark pigmentation on my cheekbone - something which I really only started to hate this year when I found I could still see it through makeup.  It's just getting darker and I really want to do something about it. I've tried lightening ranges in the past - from Clinique and Neostrata to name two and while I found them good, I actually don't think I gave them a fair run for their money.  I grew impatient and didn't use them for long enough.
I was all set to book in for laser on the dreaded mark when I heard news of this new serum from Lancome - and I thought, well go on, I'll try this first.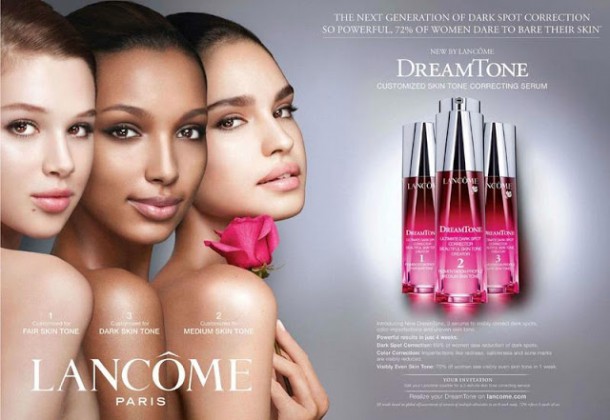 Because the clinical trial results and research that went into the making of it are amazing.
There's a lot of science involved in the research that went on to develop this product.  A lot.  Gene science is at the root of this incredible research which found that dark spots are not just caused by factors affecting the surface of the skin (the epidermis) but are also triggered by deeper changes in the dermis.
Advertised
So I'm skipping merrily over most of the details in order to give you the big picture, but what it boils down to is that L'Oreal discovered something previously unknown about skin behaviour, which could also be used in medical science.
They also discovered that women are less concerned with wrinkles as they age, than having an even skin tone.  Staying fresh faced and unblemished is more highly sought after: in other words women want a Dream Tone.
This finding surprised me due to the obsession with wrinkles that exist in Western Society.  However as this was global research maybe women from other cultures aren't as concerned with lines as we are.
There are three serums in the range, each tailored for a different skin type (or pigmentation profile as Lancome put it): fair (1), medium (2) and dark skin (3).  Ask at the Lancome counter if you're not sure which one is for you, because each skin type has specific areas of concern which are targeted by the appropriate serum.
I've been using  the one for Fair Skin Tone (1) for the last couple of weeks and of course I can't report any results yet as you need to allow at least eight weeks for any visible difference.  This serum doesn't just work on the top level of your skin the way  some other hyper pigmentation serums do (causing the marks to reappear as soon as you get a blast of sun) - it works deep down in the dermis to cause lasting change.
Bring it on!  I'll let you know how I get on in future weeks.
Advertised
 Launching this week exclusively at Brown Thomas Dublin, Limerick, Cork, Galway and nationwide from 1st Sept. (€87).