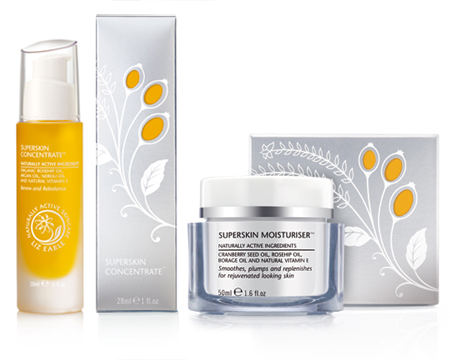 The following post will appear as a love letter to Liz Earle:
++++++++++++++++++++++++++++++++++++++++++
Dear Liz,
As it's getting on towards Valentine's day, the things I love have been on my mind. So I thought I'd write to you to tell you of my devotion to two of your products.  Yes, I admit it's gotten serious between me and Superskin Moisturiser and Concentrate. It was when my bottle of Superskin Concentrate shattered on the bathroom floor and my resultant howl could be heard on the moon, that I was forced to admit I was seriously smitten. Maybe even for life.
It hasn't always been an easy ride though, nor was it love at first sight for me with Superskin Moisturiser. No, the fact that there's no added fragrance to mask the scent of the cranberry oil you use did put me off a little to begin with, as it's quite a strong smell. But a few days use got my nose accustomed to it, and once I saw the skin-plumping and smoothing benefits, I was hooked.
We've still had our ups and downs though - I do find it gives me a bit of congestion in my chin area - but the pros so far outweigh any niggly cons that I just don't care about that.  Put simply, this is an almost-perfect product for those with dry, tight or sensitive skin, or anyone who can't abide artificial scents in their products - plus it's a God-send this time of year.
Advertised
Superskin Concentrate, you had me at hello. Yellow and divine smelling, it's a night-time treat I adore using. It just makes my skin look so much better, it's as simple as that. I love the ritual aspect of this product, the way you warm it between your hands and inhale the scent before smoothing it across skin: it's a pre-bedtime treat I look forward to, and in the morning my complexion is soft and nourished. This is something I worry about running out of, so I know it's serious between us.
Lastly Liz, let me entreat you to never discontinue either of these skin saviours. I implore you, for the sake of my sanity. Oh - and for the sake of my skin.
Love always,
Kirstie
xxxxx
++++++++++++++++++++++++++++++++++++++++++
Advertised
The Superskin range is available online at LizEarle.ie, or at Wilde and Green in Milltown, Dublin 6. But with the current exchange range shennanigans, you might be advised to buy through LizEarle.co.uk where currently, it's working out cheaper.
On the Irish website and in-store, Superskin Moisturiser is €37.50, with the Concentrate being priced at €43.75. If you do buy online, then you can choose small sizes of each for a greatly reduced price, which is a good way of finding out of the products suit you without a bigger financial commitment.