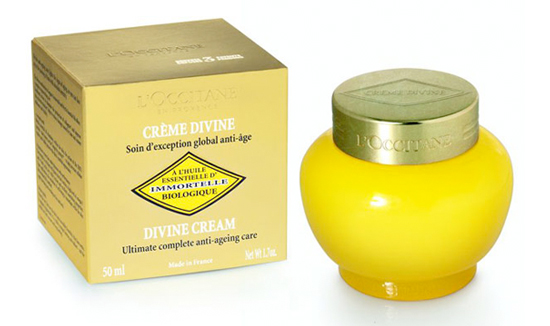 While the Beaut.ie Mammy has been depicted in print as an easily shocked aul'wan who's fond of cutting daddy's toenails with a tin snips, the reality is the ACTUAL mammy is quite fond indeed of high end beauty. Very fond, in fact.
So she was the obvious choice to test L'Occitane's Immortelle Divine Cream, €78. Immortelle is the brand's anti-ageing line for mature skins and I really wanted to hang on to it myself, because my skin drinks up anything meant for 40-plus. I knew she'd be a good tester though, and when I asked her a few weeks later how she was getting on, the results were good.
"Oh lord," she said, "what can I say? I absolutely love it!" Wow - high praise. So mammy, what's so good about this cream then? "Very little of it does you and it glides onto skin and sinks in beautifully. It's just so lovely -  smooth, luxurious and non-sticky. I've had no reactions to it at all, which I sometimes will have after a week with a new cream, but this suits perfectly."
And now for the acid test: the claims. L'Occitane say "From the very first use, the skin looks incredibly beautiful. After four weeks, it appears regenerated. It is visibly younger-looking and radiant, and the result are both instant and long-lasting."
What did the mammy think?
Advertised
"Yes, I'd agree with that," she said, adding "my skin is really smooth and it definitely looks better. There was a little bit of roughness and open pores appearing on my chin; that's now gone."
What's so good about this is it combines the best of both worlds - the nourishment of plant oils (there's 34% of them in there, delivering all their omega 3 and fatty acid goodness) as well as more regular cream moisturising ingredients which help keep hydration in the skin thanks to their humectant properties. I did of course stick my fingers into this and have a good old sniff before I handed it over: it smells beautiful and has a thick, silky texture.
Seems like it's a firm thumbs up so, but was there anything she didn't rate? "I thought the information booklet that came with the pot of cream was a bit over-hyped,"  she commented.
But it wasn't even remotely enough to put her off this Provencal brand. "You really do think of driving through that part of France with fields of sunflowers and lavender all around you. This is a product that's full of sunshine," is the mammy's final word.