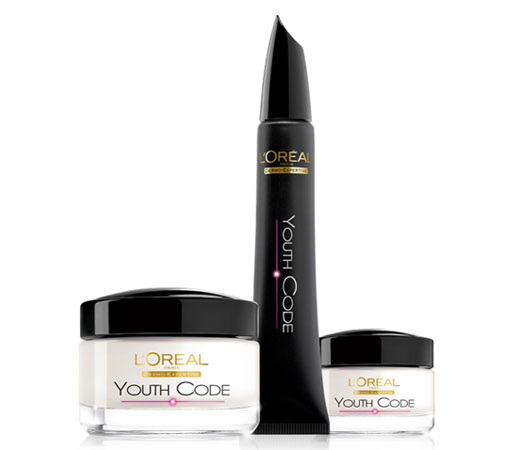 Bravo to Boots for bringing their commitment to independent clinical trials and testing into sharp focus for consumers when they made such big waves with their Protect and Protect products, but what you might not know is that lots of other mid-priced mass brands do exactly the same. Vichy, RoC, La Roche Posay and L'Oreal Paris have routinely conducted extensive testing for many years, as well as ploughed huge sums and efforts into developing new technologies, better delivery systems and improved ingredients.
So that's why, when I'm asked - and I'm asked this all the time - how should those with smaller budgets get good value and performance on skincare, one of the brands I always tip the nod to is L'Oreal Paris. Fact is, it's part of a much larger global multi-corp, L'Oreal, and inevitably, technologies that are developed higher up the food chain at brands like Lancome trickle down to the mass brands in due course.
Yeah, ok, the concentrations might not be quite the same and the packaging sure ain't, but the knowledge, expertise and sheer scale of their global distribution delivers cosmetics that in general, perform. Whether you choose the right ones for your skin type is a whole other story, and would be better addressed by sampling - keep reading!
So, Youth Code. You'll have seen that we had an ad running up in the top bar for this new line for a while, which offered you a free trial size of one of the products. I hope some of you took them up on it - after all, this sort of supermarket skincare is always the most difficult to get samples of, and as prices for the three Youth Code products are definitely at the higher end of mass, it's  always great to try before you buy.
Fact is, most Irish women mis-diagnose their skintype, and until we form the sort of relationships with facialists we have with our hairdressers, expensive mistakes will happen.
Advertised
I'm hot on science and trials, and the technology and claims for this line are impressive. Like Lancome did with their Genefique line, L'Oreal Paris have been playing around with genes for the Youth Code line. Looking at how skin responds and recovers from stress  - like exfoliation - was key here. Basically, the premise for this line is this:  if your skin is young, post-stress, it springs back to health quickly in around six hours, but if you're older, it can take longer - up to 30.
Big whoop - what's the problem with that? Well, the brand say, it's within that recovery period that the skin's barrier function can be compromised and left vulnerable. New tech, called Pro-Gen, makes use of an ingredient called Biolysate, a product of fermented Bifidus bacteria, which has a significant impact on the keratin 6B gene, and that's involved with epidermal renewal. The idea, of course, is to protect skin and by extension keep it looking good for longer.
Naturally, they didn't pull all of this out of thin air: the brand worked with Paris St-Louis Hospital, renowned for its excellence in dermatological research and have had their clinical study results  published in the journal of Experimental Dermatology - something that doesn't happen unless there's very good reason.
Now, the acid test: will the line suit you? Like all skincare, not everything will suit every skintype, so I'd be inclined to tip the nod to those in their 20s and 30s who want a little extra from their products. Normal-to-dry/combo skins will probably find they like this best and sensitive types should tread cautiously.
Advertised
The line consists of:
Rejuvinating anti-wrinkle day cream, 50ml, €23.49
Rejuvinating anti-wrinkle eye cream, 15ml, €24.99
Rejuvinating anti-wrinkle concentrate, 30ml, €24.99