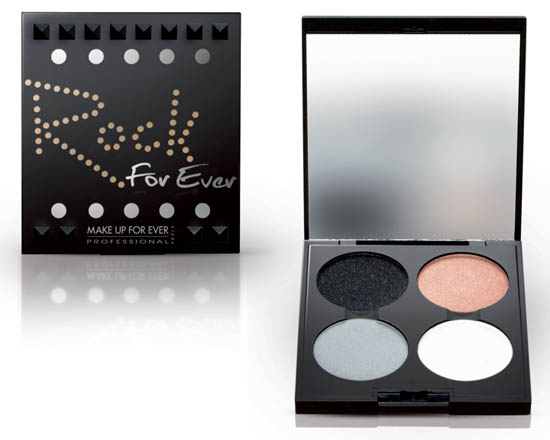 I must say, it's very nice to see some new products from Make Up For Ever - it's a brand that doesn't do much in the way of press in Ireland so it doesn't get the love of the public the way it should, and actually it's a lot easier to get here too than in the UK, which may surprise you. With a store on Clarendon Street in Dublin and a large counter at Arnotts, the brand is soon to launch www.mufe.ie too, a transactional website for those living elsewhere in the country. Excellent news.
You may want to get your hands on some of these products too, eh? This is the Rock for Ever collection, a studded suite of metallic cosmetics that's pretty much perfect for party season eyes.
Above you're looking at the limited-edition Rock For Ever Eye Shadow Palette, €50. It contains four full-sized shadows (two diamond shadows and two eye shadows) in Diamond Black 307 (charcoal black with shimmer), Diamond Beige 306 (peachy tan with gold shimmer), Eye Shadow in Silver 82 (silver shimmer) and Eye Shadow in White Shimmer 7 (white pearl shimmer). There are also application guides to help you create two looks - sweet rock and smoky rock.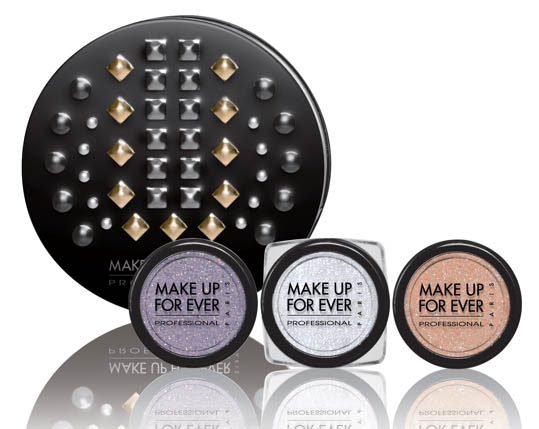 This is the Stars and Diamond Collection, €35.  You get two mini star powders in new shades (these are shimmer pigments) and one full size diamond powder in shade #1 (these babies are glittery and sparkly) in a studded tin case.
Advertised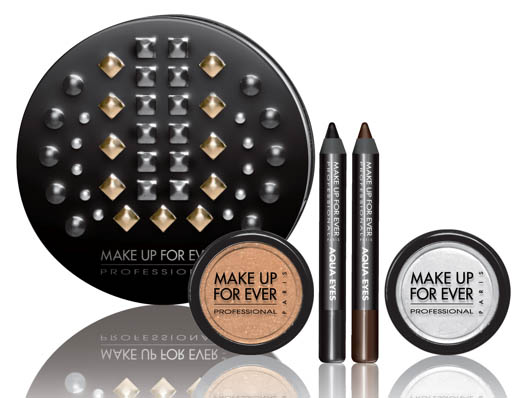 Star Powders and Aqua Eyes Collection, €35, is another good'un and comes in that nice studded tin too. Travel-sized products are included here and you get Star Powder in White/Silver 941 (white with silver highlights) and Star Powder in Copper 922 (gold copper shimmer) as well as two small Aqua Eyes pencils (these are fantastic water-and budge-proof liners) in Pearly Brown 2L (golden) and Mat Black 0L (black).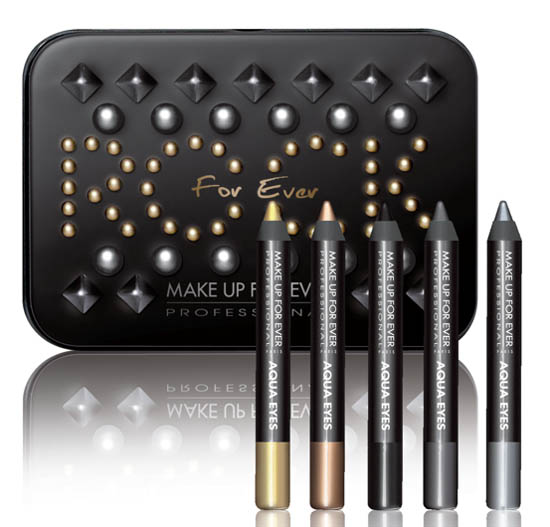 Another fab stocking filler, the Aqua Eyes Collection is also €35 and contains five mini Aqua Eyes pencils in Gold 9L (metallic yellow), Bronze 10L (metallic bronze), Dark Grey 21L (dark metallic grey), Mat Black 0L (black) and Silver 8L (metallic silver). If you're a fan of waterproof, creamy pencils like those from brands like Urban Decay or Gosh, I urge you to give Make Up For Ever's a go - they're excellent.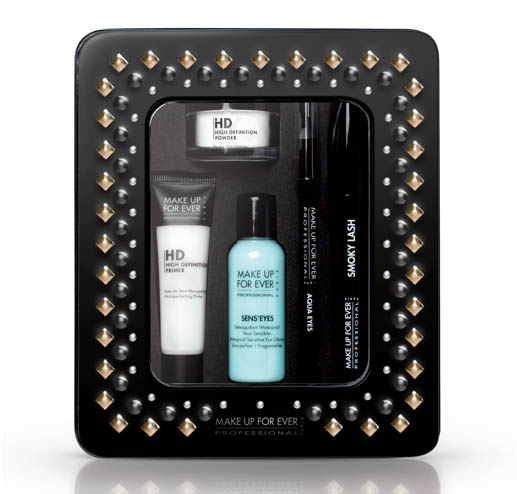 Advertised
Lastly, we have the Rock For Ever Best of Collection. At €55, it contains travel-sizes of HD High Definition Microfinish Powder, Sens' Eyes Waterproof Sensitive Eyes Cleanser, HD High Definition Microperfecting Primer, Smoky Lash mascara in Extra Black and Aqua Eyes Mat Black 0L (black).
Which one would you like in your stocking on Christmas morning?