 If you're anything like me, you can't pack a bag no matter how important it is. If you're one of those fastidious, efficient packers, then you have no business here. This is for disorganised panic packers like me. This isn't a guide to packing a carry-on bag when going through an airport - here's mammy's trusty guide to that hellish process if you're in need of help there.
What I'm talking about is the average few days away within Ireland - heading to a friend's wedding, or to visit the family. If you're anything like me, you'll always bring too much - or the wrong - makeup. I'm headed off for a four day weekend (lucky me), which will include a few different social things. That means I need a variety of makeup, but I don't want to be dragging around a barrel-full of stuff that I won't ever end up using, or lament that I forgot a red lipstick. Here's what I've packed: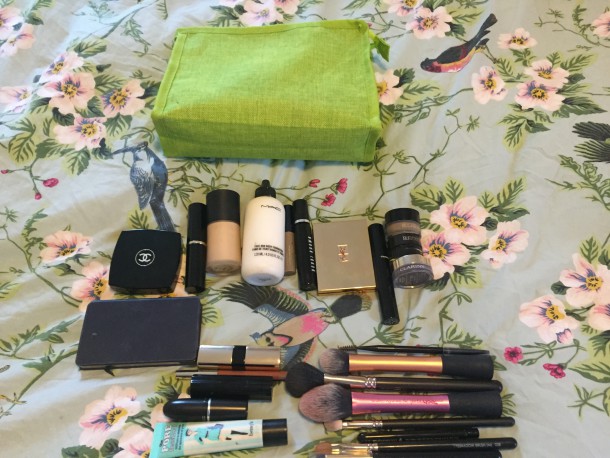 As you can see, my makeup bag isn't very big, and everything is going to have to fit! I'm headed to the theatre on Friday, and have a wedding to attend on Saturday, so I'm going with two foundations - a light one, and a heavier stick foundation which can double as a concealer. You might have spotted my white foundation, which I use to lighten my Armani Luminous Silk Foundation. There's also a small liquid highlighter, a brow gel, a neutral cream shadow, two dinky shadow palettes, a pot of gel liner and a blush.
I have two nude lipstick options as well as a red, and a mascara, along with a Benefit Porefessional Primer (which will improve the general appearance of makeup for wedding photos!). Then, I've thrown in two shadow brushes, a double-ended brow brush, a foundation brush, a blush brush and a small powder brush.
Advertised
It all fits perfectly, and I have enough eye and lip options to ensure that all bases are covered!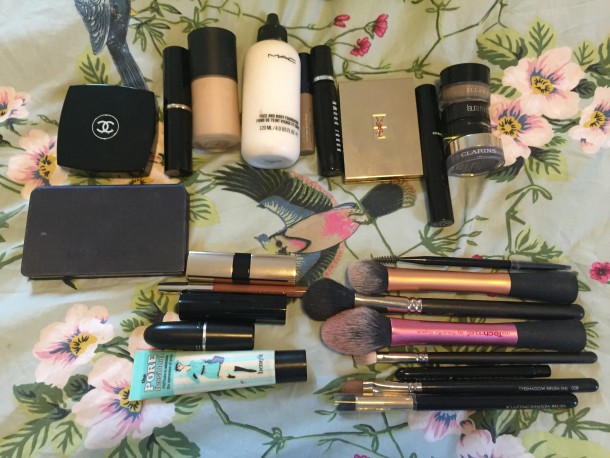 I had a closer look, then threw in another eyeshadow brush for luck, because old habits die hard. This will do me nicely for the four days I'm away. I find it's a good idea to choose your bag before you go looking for makeup to put in it - if it doesn't zip shut easily, you've overfilled it!
Do you share my squirrel-like makeup travel hoarding tendencies, or do you have a system. If you do, for the love of God, share it in the comments!