 Mama Mio may be well known for their body care products tailored to pregnancy and beyond, but I was surprised to find out they also make skincare for the face that will suit anyone, pregnant or not. I've been trying out the Clean Slate cleanser, Mighty Moisture day and night moisturiser and Eye Know moisturising eye serum and have found a quick and easy daily routine perfect for anyone who wants effective products based around high quality active and clean ingredients.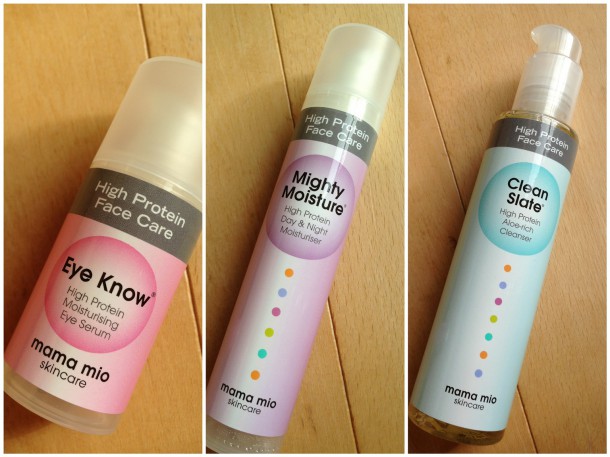 Clean Slate Aloe Rich Cleanser (€27) is a foaming gel cleanser packed in a handy pump bottle.
The cleansing ingredients are organically certified and the gentle aloe juice base also contains pre and probiotics (the next big things in skincare), firming proteins and moisturising omegas to cleanse gently, but effectively.
Fragranced with eucalyptus oil, this is an invigorating wakeup in the morning and helps clear and refresh in the evening - particularly therapeutic at the end of the heavy, sticky days we've been enjoying recently.
It cleanses really well, but without leaving that dry, tight feeling and does it super quickly too.
Mighty Moisture Day and Night Moisturiser (€45)
Advertised
This is something I'd usually shy away from - a one-size-fits-all product promising to replace separate day and night creams, serum and primer in your routine. Sounds a bit too good to be true, doesn't it? And my doubts increased when I read the direction to use only one pump of this light fluid.
But while the formula may be lightweight, the results certainly aren't. It's packed with hyaluronic acid, peptides, proteins and vitamin C in addition to the pre and probiotic complex that runs through the product line.
This light cream sinks in beautifully to plump up and smooth the skin, leaving it primed for sunscreen or makeup during the day or simply to sleep at night.
If you feel you've better things to be doing with your time than layering serums, oils and creams on twice a day, then this is the product for you.
Eye Know Moisturising Eye Serum (€33)
A clear gel formula that (like the moisturiser) that packs a whole bunch of active ingredients into one easy-to-apply product.
Hyaluronic acid moisturises and plumps up the skin, peptides work to reduce fine lines and grape stem cell extract works to protect new skin cells from UV and environmental damage. A host of other vitamins and proteins, as well as the pre and probiotic complex work to protect and improve the skin.
The clear gel sinks in easily and made the eye area look a lot smoother and less puffy and as with the other products, it's quick and easy to apply and there's no waiting around if you want to apply eye makeup.
If you're looking to simplify your skin routine to 3 easy steps, you could do worse than try these Mama Mio products. And if you like a little extra fun with your products, each one comes up with facial exercises you can do in front of the mirror, though you'll be glad to hear that these workouts can be done in minutes.  Have a look at the vid above.
Advertised
Have you tried Mama Mio?