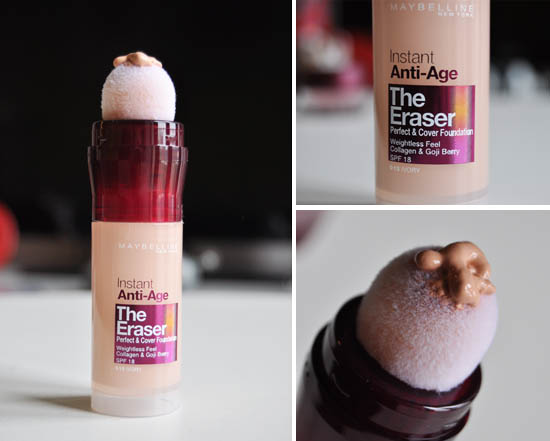 You may have seen me Twittering and Twitpiccing about this on Friday, so what's the haps with Maybelline's new foundation and primer launch, then?
We were sent one of each to test and here's the gen. Instant Anti-Age is an affordable anti-ageing duo aimed at those of us who want our foundation to do a little more than merely provide colour and coverage.  While everyone likes and can use a primer, the foundation in particular isn't a young-skin launch at all. Avoid if you've got a young, blemishy, break-out prone complexion, though older gals with a little oil to control will probably be ok with it.
Make no mistake, the brand is firmly planting this range at the feet of older women - think 30-plus. And where this differs from serum and skincare-alike base offerings from brands like Dior and Estee Lauder is that it's easily available in your chemist at a price you're likely to not need a second mortgage in order to afford.
As this is Maybelline, stable-mate of novelty applicator kings L'Oreal Paris, the brand can't resist a few gimmicks - the pencil-eraser shaped applicator on the foundation is one of 'em, but that doesn't detract from the actual products themselves. In a nutshell, this launch consists of a foundation and primer, called Instant Anti-Age The Eraser Perfect and Cover Foundation, and Instant Anti-Age The Smoother Skin Retexturizing Primer. Each costs €15.49 and they're available now.
Lets take a gander at the primer first, shall we?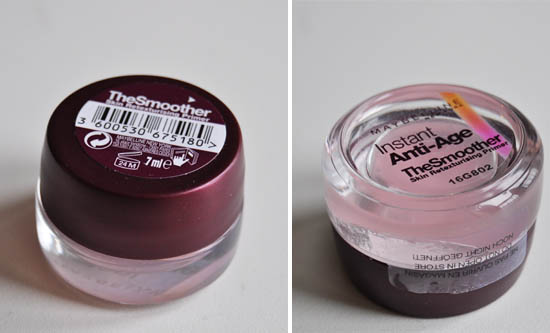 If you're a fan of silicone-based primers like Smashbox Photofinish and Gosh's Velvet Touch primer, you'll get along nicely with this. A lot of people - specifically those with oily skin - complain that the Gosh version is too liquid and oily, so good news: Instant Anti-Age The Smoother Skin Retexturizing Primer is much more like Smashbox in texture and is not a bad dupe for it at all.  And it's around half the price, too - though you only get 7ml in the pot.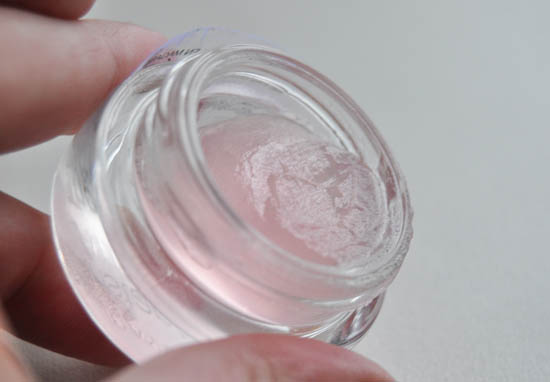 Apply a small amount of this to skin under makeup and you'll see a skin-smoothing effect: silicone primers are excellent at instantly masking fine lines and noticeable pores and tend to give a really nice base for makeup. I think oilier gals will be fine with this too.
Advertised
So, the foundation itself.  Anti-Age The Eraser Perfect and Cover Foundation comes in six shades: Ivory, Cameo, Nude, Sand,  Fawn and Sun Beige. Six ain't a lot, and this isn't really going to cut it for anyone with a skintone under about a Mac NW20. I got 010 Ivory to try, and it's what you're looking at in these shots. It's quite apricot-toned and isn't a bad match for me - as a reference I am an NW15 - but it is about a shade too dark, so take note if you're particularly ghostly. I found blending it out well towards the jawline worked ok, but ideally I'd love to see a paler shade or two.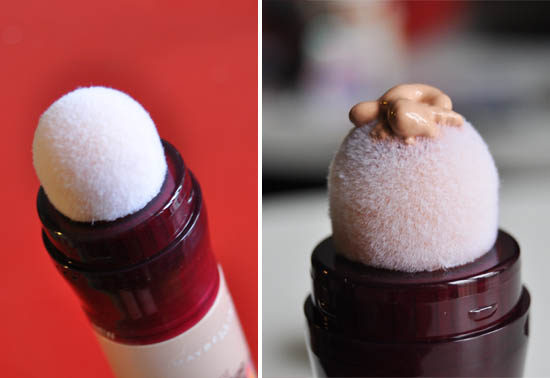 The foundation comes in a sealed tube with a soft, rounded applicator on top - the eraser, y'see. This contains thousands of soft microfibres, say the brand, and to apply the product, you twist the red portion clockwise until the product begins to seep through the top. Texture wise, the applicator is like a sponge with a fleece coating and does work well to distribute and blend the foundation, though I did a final adjustment with my fingers just to make sure all looked nicely even.
The head is small and soft enough to get in at the eyes and nose and while you can't clean it the way you can YSL's Perfect Touch, for example, Maybelline says the product has an anti-microbial system and excess can be wiped off the applicator with a tissue. I'd recommend you don't loose the supplied clear plastic cap or you could find your eraser feeling not so nice pretty quickly.
Gunk-wise, anti-ageing claims come from the fact that this has collagen, glycerin, an antioxidant goji berry complex and an all-important SPF of 18.  There's also silicone in the mix too, for slip and added smoothing. Coated pigments are designed to help light reflect evenly off the skin's surface, giving what they say is a soft-focus finish - and if you use in conjunction with the primer then you'll look even smoother. In addition, the claim here is that over time and use, skin will feel firmer and look younger.
There are apparently clinically proven results to back the claim, but I don't know the size of the sample or the sort of results that were delivered, so bear that in mind.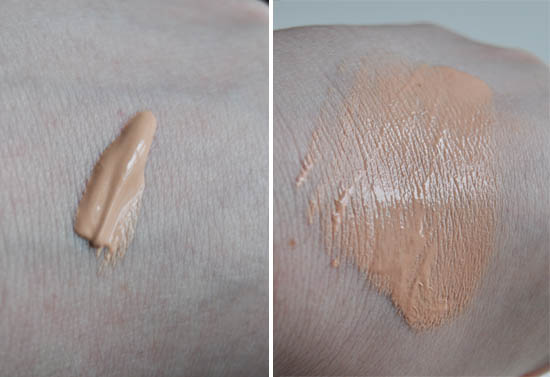 In wear this is comfortable on my dry skin: it's nicely fluid, blends well and delivers medium coverage. It's not shiny or glittery - which anti-ageing foundations can be - and it's not overly dewy or moist, plus it seems to set and wear well over the course of a day with no accentuating of dry patches or settling into lines.
I wore this twice over the weekend and was pretty happy with it. It's not the most amazing foundation I have ever tried - it kind of does that 'bitty' thing on me where it seems to separate out a little on areas like the nose - but as an affordable offering for older skins with proven ingredients and a good price, I say props to Maybelline. While L'Oreal Paris has some serum foundation offerings in the mass market already, this is helping to bring the previously pricey and exclusive treatment foundation offering to many, and that's a good thing.
Advertised
Any gripes? Yes, as mentioned, the shade choice is quite small, and you only get 20ml in the pump, which is 10ml - or a third - less than most foundation offerings.  That's a big reduction. But if you find a shade to suit and you have concerns about ageing, dry skin, you insist on a decent SPF and affordable price-point, then you'll likely be pretty happy with this.