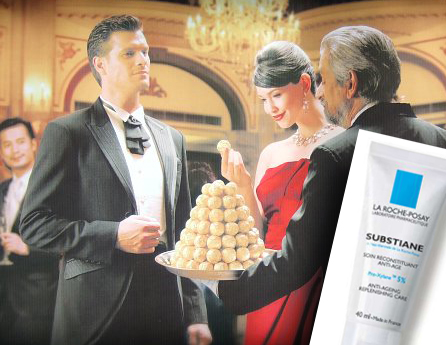 Driving home from a little shopping trip with Beaut.ie Mammy yesterday, I was surprised out of my normal (concentrating-on-driving) "mmm ... mmmm" responses.
She: Oh I must get myself some more of that lovely skin cream you got me last year. I've used up the whole tube and cut the top off and everything. Where did you get it?
Me: What's the name of it?
She: Oh it's called... em... Ferrero Rocher. Gorgeous altogether
Advertised
Me: Ferrero Rocher!? Do you mean LA ROCHE POSAY?
She: Oh yes - is that not what I said?
Anyway, I know the one she means, it's Substiane from La Roche Posay.
Substiane is formulated especially for mature skin (age group 55+) and intensely hydrates and firms thinning skin. And you can buy it in the chemist, Beaut.ie Mammy. Or I suppose, I can.