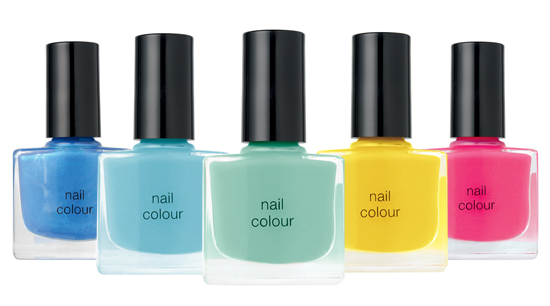 Retro fans will be pleased to know that nails are channeling old-school sweets like dolly mixtures, jelly tots, pastel-hued Laduree macaroons and colourful, swirly candy canes for spring. We're moving away from the glam darks we've been seeing for season-upon-season now and brands like Illamasqua and Revlon have very pretty pastel polishes incoming soon.
But get a load of what I have for you to check out today: Marks and Spencer will launch their new Essential Colours polish shades any minute now. Neons and pastels are on offer but the main message is colour - oh and cheap colour too, I should add. Each bottle will come in at a mere €3.50. I've used these before and found the consistency to be on the thin side, but two coats does nicely, and it seems to last as well as many other more expensive brands, so hey - if you're after a screeching shade, then for the price, who could complain?
Color choices are after the cut.
Advertised
Brights
Electric Purple
Neon Yellow
Neon Pink
Azure Blue
Pastels
Baby Blue
Pastel
Plastic Pink
Lilac