 Yesterday I had a good aul chinwag with the lovely peeps at Benefit (in between staring at their eyebrows) and got the low down on their upcoming Summer launches. The next few months are going to see loads of new and exciting products hitting the the Beneshelves (see what I did there).
So shall we take a closer look at what they have in store for us?
Well, skincare is top of their list, with radiance and prevention being the Benebuzzwords (sorry - yes, I'll stop now). Two new products will be added to their b.right! range: Instant Comeback, a facial serum, and Dream Screen, a broad spectrum SPF.
Benefit's cosmetics have long taken centre stage while their skincare line has tended to stay in the wings (anyone remember their 'Dear John' moisturiser from all those years ago?). But these new products are set to get starring roles.
Instant Comeback is described as an 'age-defying booster serum for the face'. And thirsty skins will drink this up, with it's tri-radiance complex designed to plump and hydrate. It is fast-absorbing and settles to a really smooth finish, almost like the velvety feel that you would get from a primer (so much so that I actually skipped my usual Smashbox Photo Finish). And it contains these teeny tiny light-reflecting particles that have this clever trick of catching the light and making it look like you really do have that 'lit from within' glow.
Advertised
It's a hard-working, pleasant product that will suit dehydrated and normal skins but it comes with the hefty price tag of €49.50. It will hit shelves in June so you have some time to get a serum saving plan in place.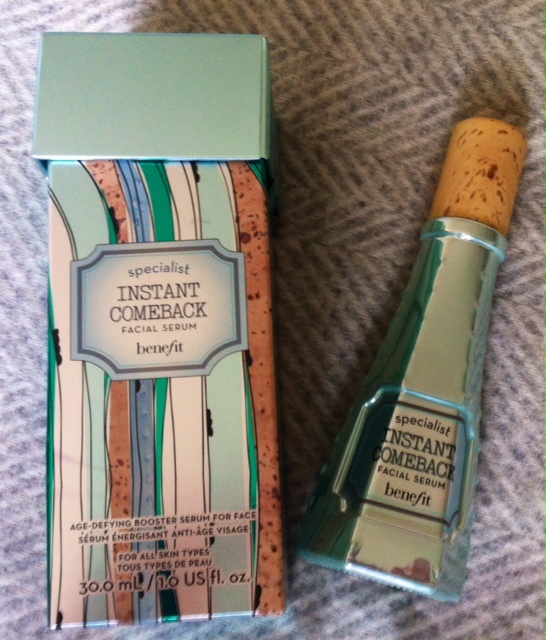 The second big skincare launch at Benefit HQ is their Dream Screen, made to protect our skin from the harmful rays of the sun.
It contains a broad spectrum SPF 45, meaning that it protects against both UVA and UVB rays  (I try to remember it as UVA causes ageing, and UVB causes burning - both of which are Bad News). It is also carries a PA+++ rating, a guide that you'll see on most Asian skincare and is now appearing on sunscreens here. It refers to the UVA protection level provided by a product (remember those UVA rays can penetrate clouds and glass). Benefit claim that the triple + rating provides eight hours of protection against those ageing, wrinkle-causing rays.
Dream Screen has a very lightweight formula, and is both oil and fragrance free. It has a silky/matte finish so while I would recommend applying between your regular moisturiser and foundation, its consistency means that you could also apply over make up.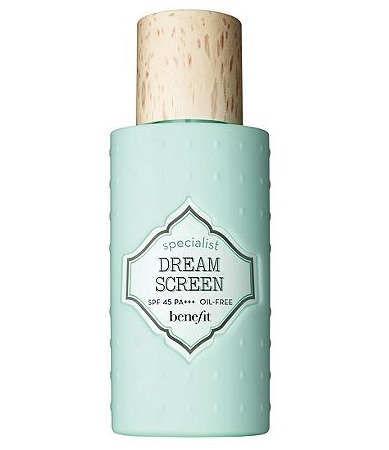 Advertised
This will also be available from June and will set you back €36 of your hard-earned cash.
Do either of these new launches catch your eye? Will you be saving up your money to make a June purchase? And does anyone else remember Dear John? To the comments!