 We popped down to the launch of the new Clarins moisturiser this week. It is aimed at women over fifty and post-menopause, and it is making some BIG claims.
Launching in September, Clarins Super Restorative Day Cream is causing a stir. Clarins have gone and patented themselves a new plant-based ingredient which they claim is showing better results in trials on aging skin than retinol. If that's so, it could be revolutionary for skincare.
I don't doubt that this new plant extract is very effective, but the claims are so big that I have my suspicions. I shall maintain an open mind, however. This magical goo was dispatched within the hour to Mammy, whose face it will adorn for the next several weeks. At that point, an invasive interview (involving gentle cheek pinching) will be conducted, and opinions noted.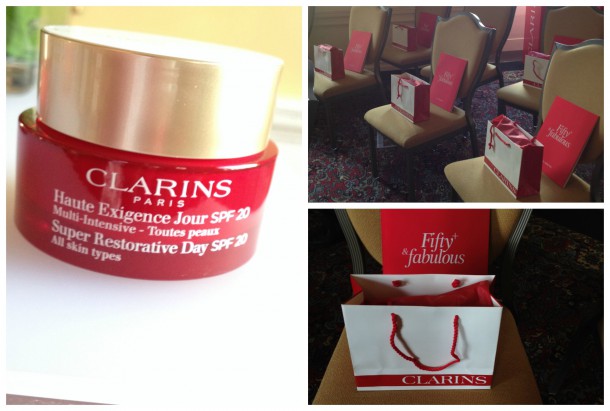 This pot o' good skin will be pricey, so we'll get you a thorough review after Mammy's trial before it launches. There will be three formulations, one enriched with Shea Butter for dry skins, one with Shea Butter plus SPF 20 for those who need it, and one enriched with Mango Butter for even drier or super dry skins.
All three varieties also contain plenty of hyaluronic acid for hydration and a derivative of Vitamin C to prevent the appearance of pigmentation issues in aging skin, and some mineral pearls to blur the appearance of lines. Personally, I like to see older skins catered for. It's an unbelievable fact, but women over 25 actually exist, and have done so for some time.
Advertised

I'm also delighted that the campaign image depicts a woman who possesses wrinkles and is not twenty. Reee-freshing. It shouldn't be unusual, but it is.
Hang in there Beaut.ies, we will fill you in soon!
Does this fill you with excitement? What do you think of the beauty industry's depiction of more mature women? Are they depicted at all? Tell us what you think in the comments!