 Last week I popped along to L'Oréal's launch of their Age Perfect Extraordinary range.
Before we start, I should say that you might want to read this review when your work mates have gone on their tea break or your other half is entranced by the World Cup because you'll doing all kinds of crazy massage moves on your jaw by the time we're finished. You have been warned.
There are two new products to introduce you to, so let's start off by looking at L'Oréal's first facial oil.
Age Perfect Extraordinary Facial Oil (€25.99)
This is lightweight facial oil (you can check out the oils and you voted for in the Beautie Awards 2014 here) that smells quite herbal. It is made with eight essential oils: lavender (antioxidant), 0range peel (the strongest scent of the oily bunch), rosemary (anti-bacterial), rose (soothing), chamomile (calming), marjoram (anti-bacterial), geranium (astringent) and lavandin (stimulates collagen and elastin).
You need literally only use two to three drops of the oil to cover the whole face - any more and you'll risk overloading the skin. Or you can just use it on targeted areas like elbows and dry patches.
This oil would suit more mature skin or skin that is slightly dry and in need of an oily, slithery kick.
Use at night over your moisturiser (or a  great tip for lighter oils like this is to take a tiny drop between the palms of your hands, rub together and then dot over your make up for a soft, dewy, natural look).
Advertised
Age Perfect Extraordinary Oil-Cream (€22.99)
The second product is like something out of the Frankenstein lab, but only if the good doctor had been really serious about skincare instead of monsters and the like.
This is l'Oréal's first oil-in-cream formula, enriched with essential oils of rosemary and lavender. The texture reflects its hybrid nature, you can tell that there is oil in it. It spreads really well but has a dry oil finish so don't be afraid that you'll leave the house with Brylcreem face.
This is what I would say is a gentle winner of a product - it's not outstanding but it's reasonably priced and does the job. It smells great, it hydrates well and gives a healthy glow to the skin. It woulds be a great choice for skin that is slightly dehydrated and has started to see some lines.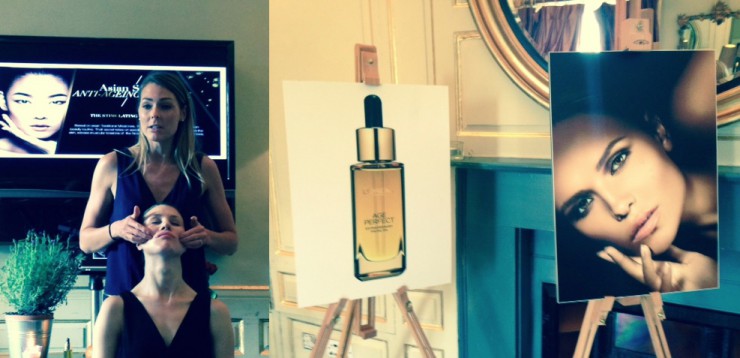 Facialist Michaella Boulder was on hand (literally) to show us how to get the most out of the product by give yourself a good facial massage  - firstly to stimulate and then to calm the skin. And with clients like Elle MacPherson, Kelly Brook and the Saturdays, this girl knows her stuff.
So get comfy at your desk and let's get practising. You can take a little of the oil-cream and spread it over the face using light touches and rotating movements.
Apply pressure to your temples with your thumbs and smooth the skin on the forehead, all the way to your ears (if you get tension headaches, this is one that can really help).
Open your jaws (dun dun dun dun) and massage just in front of the hinge on either side, and then move from the inside of your cheekbone, out towards your ear to stimulate the skin.
Smooth any excess with small dabs of the fingers to sooth and calm the skin.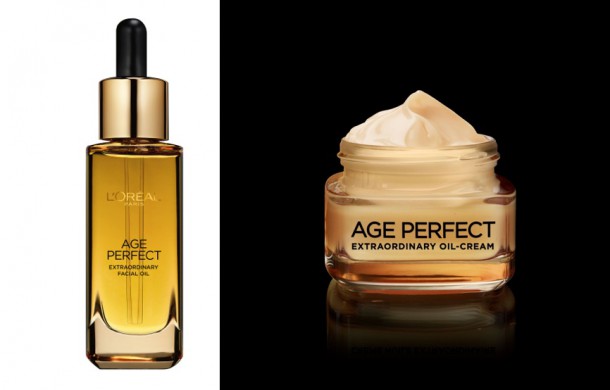 L'Oréal's Age Perfect is on Boots counters now.
Advertised
Would you be tempted by this range? Do you have a favourite facial oil that the devil himself could not part you from? Any what do you think of the idea of an oil-cream mutant? To the comments!