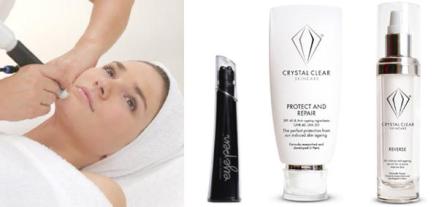 Fans of Crystal Clear treatments listen up, because the people whose salon magic fabulizes the likes of Gwyneth Paltrow, Madonna, Dido and, er, Jude Law are launching a shiny new range of paraben-free skincare.
Shriek!
The products are skin specific: the Skin Solutions line has been formulated to deal with problem combination or oily skin while the Rejuvinate range promises to tackle and help prevent the tattle-tale signs of aging. There's also a Body Solutions range to make sure that the rest of your hide is kept in great nick.
All the products harness the power of scientific ingredients like peptides and oxygen complexes at high concentrations while using a natural preservative system, and they smell bloody gorgeous too thanks to carefully blended combinations of essential oils that work together to help restructure the skin.
Advertised
I've been having a go of a few bits and bobs from the Rejuvenate line, and I am really liking the cleanser - it's a wipe-off milk but feels really light, almost like a gel in texture, and cuts right through make-up and daily grime to leave skin perfectly clean but comfortable. Called "Wipe Away The Years", it purports to tackle the signs of aging while you cleanse thanks to an ingredients list that includes biopeptides to reduce wrinkles and improve skin elasticity and an oxygen complex which helps to regenerate and revitalise the skin by replacing lost energy in skin cells.
Ooo-eee-ooo, fancy.
Meanwhile, the "Illuminate" moisturiser promises to help repair uneven skin tone and pigmentation, revive skin radiance, and fight wrinkles and free radical damage, which causes premature aging. This is a bit rich for my skin but I can tell you that it definitely makes skin look brighter on application and gets the thumbs up for including an SPF15.
Now, apart from the usual cleanser/moisturiser offerings in the skincare lines, there are loads of very cool sounding products; the serums from the Rejuvenate lines have actually been causing something of a Meedja frenzy. The active ingredient in their Intense Anti-Ageing Serum mimics the action of the venom of a Temple Viper snake (ewwwww) to reduce wrinkles and expression lines even in a short period. The "Rollaway The Years" Eye Serum is delivered to the skin via three little rollerballs at the tip of the applicator, which Crystal Clear reckon delivers the active ingredients deep into the tissue to reduce dark circles, soften fine lines and wrinkles and lift, firm and strenghen the eye area, all the while promoting lymphatic drainage to relieve puffiness.
Available from mid-July from Brown Thomas as well as selected salons and spas nationwide, this stuff ain't cheap: prices start at €42 for the cleansers, which are 200ml size. I'm sort of hoping I fall out of love the milk cleanser - I'll have to take on a weekend job to keep me in the stuff otherwise!