 One of my favourite things to do on New Year's Eve is give myself a manicure to bring in the New Year. Today I have a really easy and quick but pretty nail art idea for New Year.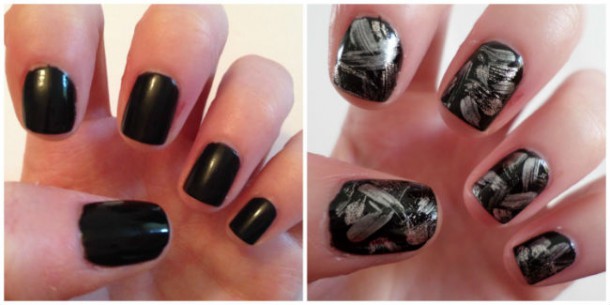 I used Rimmel's Black Cab for the base but any black polish with do.

Then I took Rimmel's Silver Bullet. I removed almost of the polish from the brush by wiping it against the neck of the bottle so the brush is pretty free from polish, that way you can see the individual bristles of the brush when you swipe it across the nail to get a rougher, less precise look.

Then randomly swipe the brush on each nail, it couldn't be easier!

Finally, lock it down with a topcoat, I used Orly Bonder because it makes my nails look really glossy and it helps prevent chipping.
Advertised
I think black and silver is a pretty combination but you could use berry with gold or maybe navy with silver.
I really like this look because it looks more complicated than it actually is and I think it looks quite understated but still impressive.
Do you dig this glitzy nail look? Will you be pulling out all the stops for your New Year look, nails and otherwise? Let's  comment!