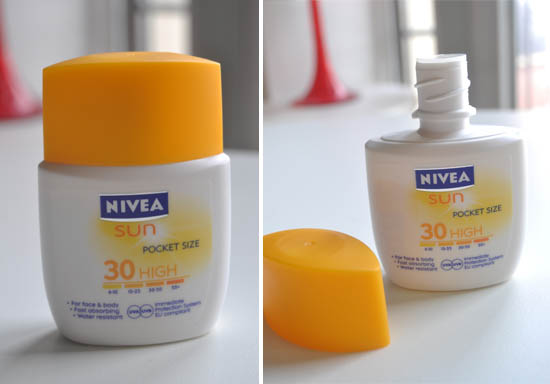 A criticism of facial sunscreen products - particularly those with a high SPF - is that they can often be very expensive. If you use the amount you're recommended to as well, you can really get through bottles of this stuff on a regular basis, and that, along with the other skincare costs we all have, can add up to a not inconsiderable total.
Can't say it's gonna be much of an issue with Nivea Sun Pocket Size SPF30.
It's €5.79.
Yes. That's right. Five Euro and seventy nine cent.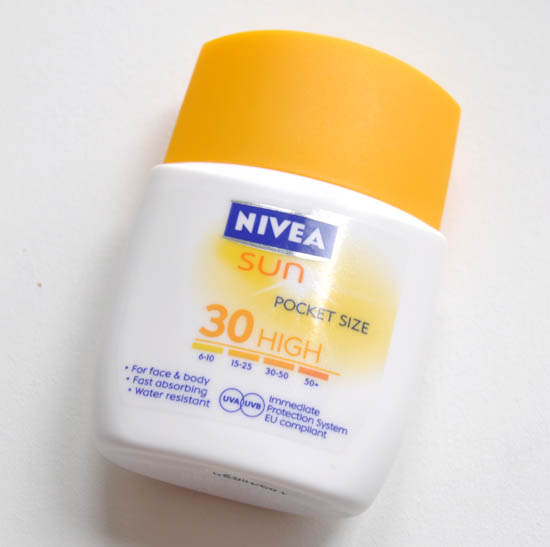 And it's so cuuuuute!
Advertised
50ml, broad-spectrum UV protection is offered for your cash, with a four star rating. This rating helps you determine the ratio of UVA (rays that age) protection to UVB (rays that burn) protection. We took a look at this on Monday in our Boots summer sunscreen questions post, so have a gander at that for more info. Five stars is the maximum, and obviously four stars is very respectable, especially given the price point. So, that's all great.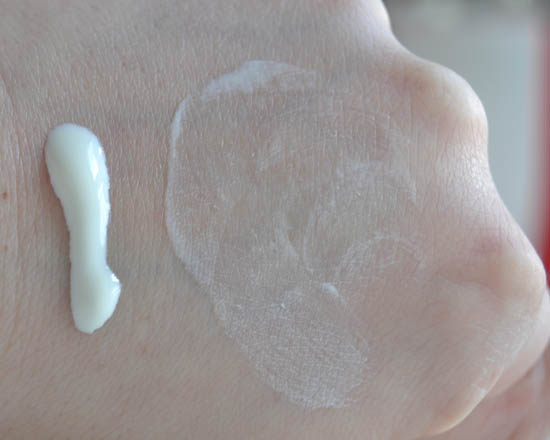 And here's a swatch.
This is meant for use over your moisturiser, and not as a replacement for it, by the way, as it's an SPF product and not a moisturiser with SPF, so just take note of that. It's should also be applied as the step after serum and moisturiser and before makeup.
Now, please note this isn't a review post; I'm not using this myself but I thought it was well worth flagging because of the good broad-spectrum protection it offers and the excellent price-point. Texture is good, it appears to blend well based on my quick skin tests and there doesn't seem to be any nasty chalky or ghost-alike residue.
As an aside, here's a tip: shake your sunscreen every time before you use it - that helps mix everything and can cut down on weirdy streaky results.
Advertised
Clearly, you'll have to try this yourself to see if you and your skin find that you can forge a special relationship with Nivea Sun Pocket Size SPF30. Whaddya think? Worth a punt for the small outlay?