 Ok, don't tell Himself I said this.  But as soon as I clapped eyes on the new range of skincare by Nars, and in particular the mask that you can leave on in a thick moisturising face blankie all night, I knew.
That I would be sleeping a serene sleep all night, unsullied by any thrashing around or shennanigans.  No I would be going to bed in a saintly fashion with my Kindle, a cleansed face and a thick layer of Aqua Gel Luminous Mask adorning my visage.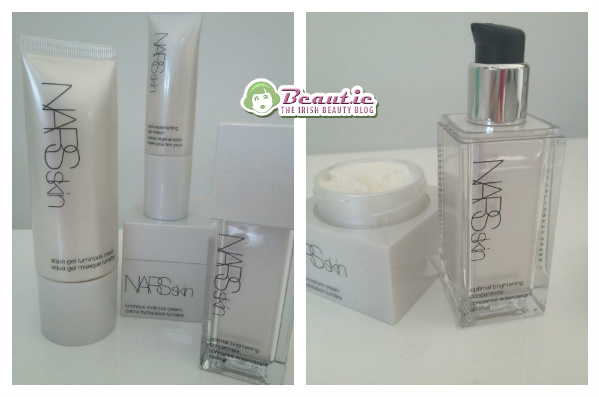 With their reputation as cosmetic kings NarsSkin had to be bloody good.  LOTS of fancy pants Shiseido technology went into the making of this range - there were tons of explanations about prisms and Edison (seriously!) but you and I really only want to know one thing.
Is the range a good one?  And you possibly you want to know another thing - is it worth spending your moola on?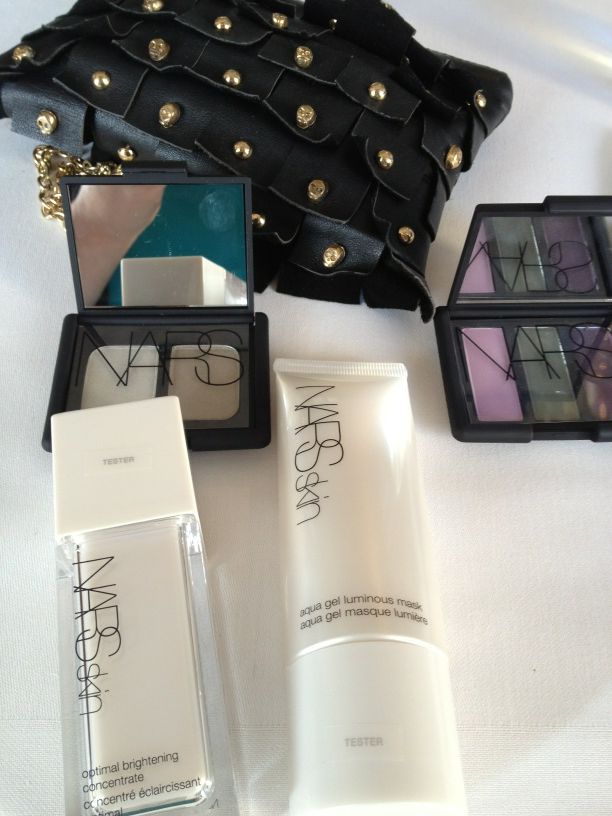 Advertised
Yes my friends it's gorgeous.  Above is a shot of two of the products I was particularly taken with, together with a couple of eyeshadow palettes from the Autumn makeup collection. ( Read all about the new A/W collection here, we previewed it a while back.)
Several products make up the range and we really liked the Optimal Brightening Concentrate (€68) which can be worn alone or under makeup.  Beautiful texture and smell - this will prime your skin and create a perfect landing station for your foundation of choice.  Total Replenishing Eye Cream (€52) and Luminious Moisture Cream (€59) (check out the Aqua gel luminous oil-free moisturiser if that suits your skin better (€55)) all have suberb hydrating and light reflecting properties. Cleanser, toner and exfoliator complete the range.
But it was the Aqua Gel Luminous Mask (€37) that inspired us to go into raptures.  The texture! The smell! The sudden youthfullness of hands! It's really hydrating and will give you a huge moisture boost.  Remember - don't rub it in.  Apply a thickish layer and let it sit on the skin for as long as possible before removing.
So you see, it would be a WASTE to rub it off on some stubbly fella.  Go to bed in your most unappealing jammies and worry not - he won't fancy you anyway when he sees the layer of goo.  At €37 the price point is good too.
Truly gorgeous skincare.  Totally luxe - reminding me in so many ways of Prescriptives (sniffle and RIP) and of course Shiseido.  If you're in the market for spending on skincare give this a whirl.
Advertised