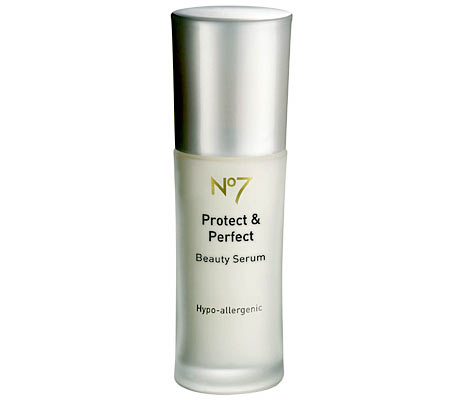 Now, there's some words I never thought I'd hear - a No7 product being so good that it's causing stampedes to Boots resulting in a complete sell out in a ton of branches! What am I on about? Aphrodite blogged about this the other day in her post about Prof Regan's Beauty Parlour, where a gen-u-ine doctor tested a ton of beauty products to see if they lived up to their wild claims. Guess what? Most of them didn't, but the No7 Protect and Perfect Beauty Serum was hotly tipped. Hence the resulting stampede of female type hooves to their nearest Boots.
The Daily Mail has more:
Sales of a €17 Boots brand anti-ageing cream have soared by 2000 per cent following an independent study showing it reduces wrinkles.
Advertised
Many stores have run out of the 'No7 Protect & Perfect Serum' after the product was featured on a BBC Horizon programme on Tuesday.
By the next day the Boots webstore had completely sold out of the product. Such is demand that a number of Boots outlets have had to draw up waiting lists for customers
You can read the rest of the article on the Daily Mail website.