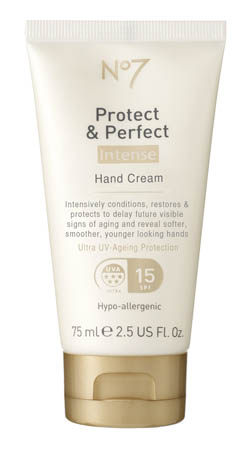 We've checked out what's in-coming from No7 for spring - which proved to be completely polarising much to my surprise - but that's not all I took a look at at Boots' recent spring press day in London. Skincare boffin (oh, how I love the word boffin) Mike Bell took us through some new additions to the Perfect and Protect franchise too.
Aphrodite's post last week on handcream makes this one pretty timely: No7 Protect and Perfect Intense Day Handcream with SPF15 will launch on 26th January and is a turbo-charged anti-ageing hand treatment with five star UVA protection. Other brands already offer similar products and it makes a huge dose of sense to use SPF on the skin that gets the most grief and the least care.
The difference with this is the five star UVA protection. This made its first appearance in Intense Day Cream recently and is worth shouting about because this rating ensures that it provides matching levels of protection against both UVA and UVB rays - the ones that age and burn skin. Most products offer a ratio of protection (like 3:1) and the ageing component is generally on the lesser side of the equation.
Price will hopefully be reasonable too - the euro cost hasn't yet been released but this will be £11.50 in the UK, so hopefully it won't be more than about €14-€15 here. SPF'd fingers crossed.
Advertised
To touch, this is very nice. It is rich and slightly heavier - plus a little greasier - than I expected but SPF always does thicken and stickify a formulation. The upshot is that it's not a problem as the cream absorbs well, so it's not going to cause any sticky issues  for you. Mike Bell recommends reapplication every time you wash your hands but honestly, that's not always feasible, not to mention expensive in terms of product usage. So to keep hands protected, before you head outside apply it, and as you feel necessary throughout the day.
A complimentary night-time cream will also land at the same time, and it's designed to give hands a really good treatment overnight, hydrating and plumping skin to help it look less lined and more even-toned.
Whaddya think - is handcream with SPF something you'd be interested in buying?