 I'm still on my quest to find that perfect pale foundation. We've had quite a few contenders (read Six great foundations for very pale skin)  and recently I was raving about Bobbi Brown's latest gem, but here's another that should be added to your 'must have' beauty lists. It's from the much talked about Dainty Doll range.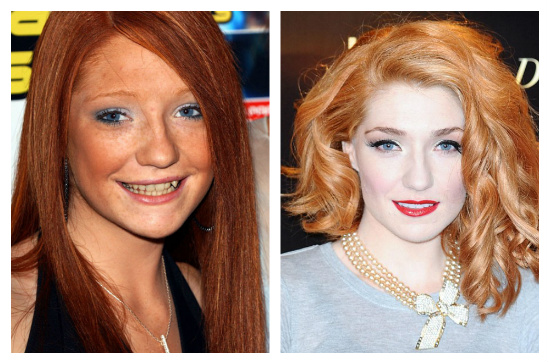 Girls Aloud's Nicola Roberts is as pale as they come. We all remember her in the early days of the group, decked from head to toe in that orange fake tan. I don't know about you lot, but this writer was shocked when she scrubbed away it all and revealed her beautiful porcelain skin. In various interviews she said she was sick of trying to mask her skin because a: she no longer wanted to feel insecure about her skin, and b: she couldn't find the right colour foundation.  So in 2008, she decided to do something about it.
Created specifically for paler complexions, you have to hand it to the girl for her waving that pale flag and helping the rest of us out too. The range is absolutely superb, and rather than boasting about something that doesn't deliver, it ticks all the boxes. I'll be reviewing a few products from the range, starting with this beauty: Dainty Doll Now That I've Found You Liquid Foundation.
Nicola originally launched the Dainty Doll range in 2008 as part of ITV2 show 'The Passions Of Girls Aloud', but only produced a small number of products. So in 2010, she re-launched the range compete with a bigger product choice. I stumbled across the range in Boots in Belfast, squealed with delight and bought as many products as I could afford.
Advertised
It's All About The Colour
The first thing to get right is the colour. The liquid foundation comes in four different shades of pale: Very Light (001), Light (002), Medium (003) and Dark (004). I'm a perfect match with the palest shade in 001, but this is extra pale and may be too light for some.  If Porcelain in Bobbi Brown is the right match for you, you'll probably be a shade darker in 002. It looks beautifully white on me with no dreaded foundation line in sight!
Build It Up
The foundation will give you a dewy, satin finish whilst offering buildable coverage at the same time. It glides on and easily covers any imperfections, leaving skin looking flawless.  It is long lasting and stayed on me all day without any problems, though I did have to add a little power to avoid shine around my t-zone. Thankfully, it doesn't dry out the skin, but if you have very oily skin I would suggest using a primer and a little powder to ensure it stays put.
Use A Little, Get A Lot
I paid around  £23 for the foundation, which I thought was a good bargain as it's in a 30ml bottle so it will last for ages. I only need to use 2-3 pumps for full coverage and I found buffing it on with a stipple brush gave me a truly flawless look. It can also be applied successfully using your fingers, but I'd always recommend using a brush, particularly if you're looking for full coverage. The packaging is funky and gorgeous and I'll always love a foundation that comes complete with a pump.
So there you have it: It's super pale, gives great coverage, doesn't settle in fine lines or wrinkles and just generally looks gorgeous on – what more could you ask for?
I really haven't a bad thing to say about this one, the only disadvantage being that we can't try before we buy. This foundation can be bought with free shipping, over at FeelUnique.com, currently at 10% off, so leg it over quick and get yours today.  And of course you get another 7% off this with our exclusive Beaut.ie voucher code - click here to find out the details.
Advertised
What do you reckon?  Have you already tried out this foundation?  And if not do you think you might give it a whirl?