 I first wrote about skincare brand Nude about a year ago (though it has been around significantly longer than that). They have a well-deserved reputation for natural beauty, but truthfully, I'm not all that bothered about that. Some people use skincare that contains all natural ingredients and is vegan because it's important to them, and that's fine. I prefer to use what is effective, so whether that's essential oils or Retinol, I'll give it a go.
I like Nude as a brand for many reasons; primarily because the products work but they also they give you a lovely sensory experience while they do it. All of Nude's products are expensive, so they need to be top notch to justify the price.
There are two skincare products that I'll always try to spend more on - serums and oils. Sure, some people's 'more' is €300 (lucky them!), while other people are stretching the budget by spending even a fifth of that. Invest whatever you can afford to without stressing yourself out.  A really high quality facial oil can run well over €100, so at €70, Nude's new Progenius Rescue Oil actually isn't doing too badly, and it is glorious.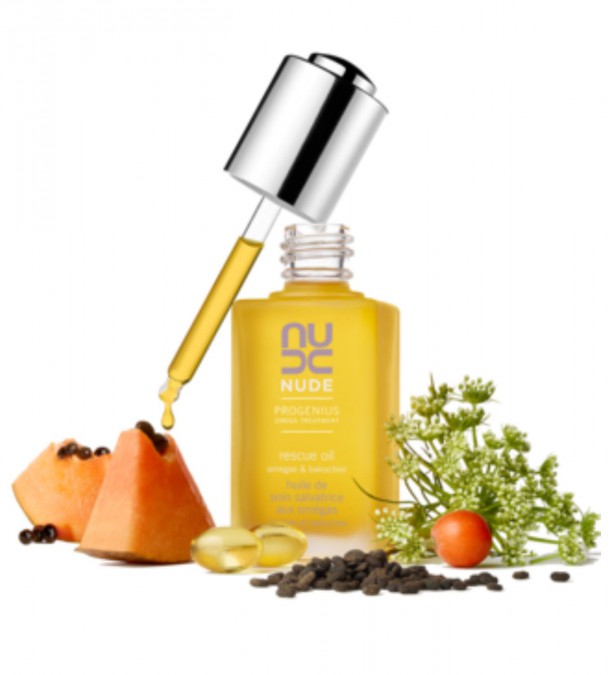 From the smooth matte glass bottle to the rich golden oil inside, this product is definitely luxurious, but in a practical sort of way. As you might expect from Nude, it has a refreshing, herby, and almost medicinal aroma. The texture of the oil is quite thin and reminds me a little of a serum. A little goes a very long way, and pressed into taut, dry skin, it's unbelievably comforting.
Advertised
The oil contains bakuchiol, which behaves a little bit like retinol by refining skin texture. Cold pressed rose hip seeds cover the omegas and vitamin c, while rosemary extract accounts for the divine fragrance, as well as acting as a natural antibacterial and nourishing the skin.
All in all, this is a beautiful oil, perfect for every skin type as a night time addition to any skincare routine. It's available online and from Space NK.
Are you an oil fanatic? To the comments!