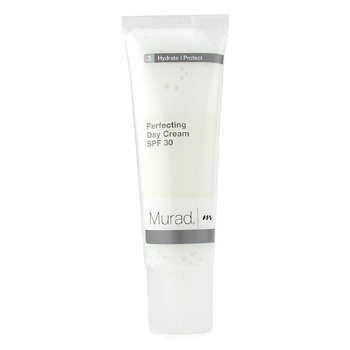 Obsessed as I am with SPFs and sun protection and fighting premature ageing, I thought it was high time I tried out a Murad moisturiser with SPF30 I've had in my stash for some time. Spurred on by the tale told to me by a friend of a gone-off luxury product, I cracked the tube late last week.
Simple, stylish packaging, and a thick, fairly heavy cream greeted me. I looked at it a little dubiously. It was very white.
I put it on, and was pleasantly surprised. Scented with lavender, it's packed full of antioxidants and is soothing and kind. Thankfully, it also absorbs immediately, with no ghostly white residue. Ideal for dry or sensitive skins - hello - it's been a good choice for my boatrace. I'll usually know fairly soon if something isn't going to do it for me - the achingly tight skin is a good indicator, I've found - but this is hydrating, reliable, and provides a brilliant base for makeup. And of course, the addition of a sun protection factor of 30 is a huge plus.
Advertised
Murad isn't widely available here, but can be purchased (to the best of my knowledge) from Carter Beauty in Dun Laoghaire; Urbana on Wicklow Street; Therapie on Molesworth Street and online from Strawberrynet, where Advanced Performance Perfecting Day Cream will set you back €31.50 - a good tenner cheaper than regular retail, if I am not mistaken.