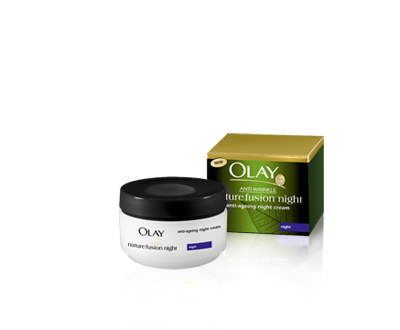 I love night cream and I can't really resist the urge to be trying out new ones all the time. Plus I seem to get through gallons of moisturiser - do you?
Right so, on to the Olay. I picked this up in the supermarket.
I didn't really expect that much from it. Yes okay I know Olay is pretty good - we've rated it in the past - but that doesn't necessarily make it my moisturiser of choice. It's among the dearest of the brands you'll pick up in the supermarket but with its ever expanding range and choice of products for almost any skin type it's a safe bet.
Well reader I'm here to tell you that I was v impressed indeed.
Advertised
This moisturiser is really good. Jam packed with botanicals - ginseng and grapefruit - it smells like a much more expensive product. It reminded me of Liz Earle and Decleor - yes really! Texture wise it's rich, nourishing and creamy - just the thing for skin showing early signs of ageing and/or dehydration (perfect for thirtysomethings). I absolutely love it - and I've surprised myself.
And of course, because it's tried and trusted Olay, it has all the science in place - natural antioxidants, friendly vitamins and skin firming ingredients. So if you're into trying a good natural ingredient packed cream but just can't stomach the prices of the premium brands then why not start with this?
And the best bit? Well I got it for half price in Tesco for €15.49 - and so can you as I saw it still at this price yesterday when I was in getting a few messages.
If you've been wondering why you should use night cream have a read of this.