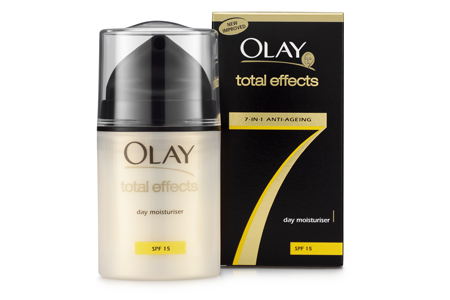 Some things are never quite as good as remembered the second time around. Watching Bosco and MacGuyver and eating Mr. Freezes were all activites that I would have classified as awesome as a kid, but reliving those experiences as an adult hasn't been nearly as enjoyable.
Well, my experience with Olay Total Effects Day Moisturiser has been a bit like that.
I used it every day for several months until a little over a year ago, and based on my recollections of my skin looking really damn good back then, I decided to repurchase recently when I was on the hunt for a new daily moisturiser. In my recollections, Total Effects left me with radiant, luminous, almost blemish-free skin with invisible pores and zero lines (no, I don't know how it didn't occur to me that I might be looking back through rose-tinted glasses either) so of course I wanted to give it another lash.
Packed with vitamins to strengthen skin's barrier function, battle external skin stressors, Olay claim that this moisturiser:
Visibly reduces the appearance of fine lines and wrinkles
Nourishes and moisturises to give a radiant healthy glow
Enhances skintone by balancing colour and visibly reducing the appearance of age spots
Gently exfoliates to smooth and even skin texture
Minimises the appearance of pores
Contains anti-oxidants to help prevent free radical damage to the skin's surface layers
Gives skin a firmer appearance
Advertised
It's also non-comedogenic and contains SPF15, and of course all of this tied in nicely with my memory of it being utterly fantastic.
Well, I've been using it his time around for just over three months now, and while it's not quite the miracle potion I (mis)remembered it to be, it does actually seem to suit my skin pretty well. It's not greasy, doesn't clog my pores, acts as a good base for make-up (although it takes a while to sink in), and keeps my skin moisturised all day. It does seem to be helping with my forehead wrinkles, too.
What it doesn't do, despite its slightly pearlescent appearance, is give me that radiance the blurb talks about and that I thought I recalled from the last time around. Nor has it made a blind bit of difference to tone or pigmentation.
Oh well. It might be the Bosco of the moisturiser world but it's still good enough for the time being!