 I'm not sure whether to be happy or sad about Ole Henriksen Ultimate Lift Firming Serum (€59). On the one hand, I'm happy to be able to report back that this actually does what it promises to do. But on the other hand, this means I'm obviously reaching a certain age, one where words like "lifting", "firming" and "tightening" are becoming part of my skincare lexicon and that's not exactly a welcome thought.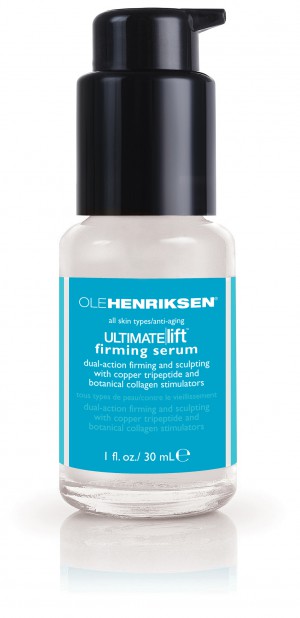 Still, at least there are effective products like this around to cheer me up. Working on two levels, Ultimate Lift Serum hydrates the skin to plump it up and fill out lines, while tightening and lifting the skin at the same time.
I'm used to the days of yore when serums that claimed to lift and smooth like this tended to be packed with silicones. Which certainly had the optical effect of smoothing out the skin, but ended up clogging my pores and breaking me out.
So I was relieved to see none of these in the ingredient list on Ultimate Lift serum. Instead there are a few different interesting things at work here, including:
Advertised
a complex that combines oat and algae extract with bamboo and pea extracts to trigger an immediate tightening effect and also stimulate collagen and elastin production
hyaluronic acid complex that plumps the skin to smooth lines while also forming a barrier to lock in hydration
copper tripeptide to firm and give antioxidant protection
a blend of lactic and glycolic acid to help speed up turnover of skin cells and allow the product to penetrate the skin
I can't speak for the long-term effects just yet, but there is a noticeable difference to my skin on application. It definitely looks smoother and tighter and even if that's an optical effect, it's impressive.
The serum can be used in the morning and at night. You may find that the AHA complex makes your skin tingle slightly on application, so if your skin is sensitive you could start off with once-daily application and build up to twice daily if needed. The resulting increase in skin cell turnover may also mean you need to pay more attention to your cleansing routine for a while as your skin adjusts, to ensure dead skin cells are swept away and don't lead to congestion. And of course, ensure you're wearing a good SPF on a daily basis to protect new cells from damage.
Ultimate Lift Firming Serum may seem like a pricy skincare investment, but if firming and lifting are what you're looking for in a skincare product, then it could be worth a try.
Get Beaut.ie Delivered
Stay updated with Beaut.ie newsletters full of the latest happenings at Beaut.ie as well as great offers and things we think you might find interesting .