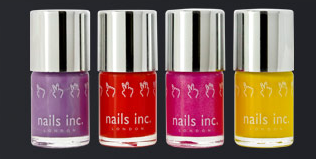 As I was having a bit of an auld browse round t'internet yesterday, I came across something rather interesting that I think midlands ladies will be pretty pleased with. In the brand-spanking-new Athlone Town Centre shopping mall is a pharmacy called McGorisks. I checked out their website for more info. Brands like Lancome, Clarins, Elizabeth Arden and Chanel are in stock - so far, so usual, you might say. Lovely brands, of course, but you can generally find them everywhere.
But then, when I scrolled down the page, I saw that they have a nails inc nail bar in-store! Woo - now, this is a point of difference. For the uninitiated, nails inc is a fab UK beauty brand who specialise in fashion-forward and trend-led nail colours, and Brown Thomas Dublin and Cork have their bars in-store. So McGorisks is in VG company indeed.
Advertised
If you're interested in heading that way for a mani, then give them a bell on 090 6484384, and if you've been in already - let us know your thoughts!