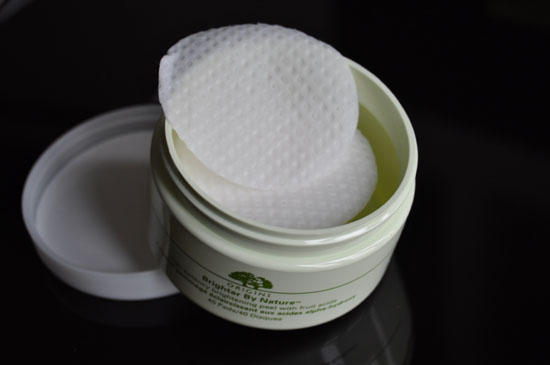 Trish McEvoy and Dr Dennis Gross' MDSkincare have similar products at much higher prices, and while Origins new *takes a deep breath* Brighter by Nature High Potency Brightening Peel With Fruit Acids *lets out deep breath* is €43.30, you do get 40 pads in the pot. With one to be used twice per week, you get five months of usage for your investment, so if you work it out on a cost-per-use basis, it's pretty justifiable.
Inspired by the mania for chemical peels, these pads are infused with a fruit acids complex that includes goji berry, blueberry, cranberry, pomegranate, grape seeds, coconut and salicylic acid. Designed to provide a quick and simple fast exfoliation that's suitable for all skins barring sensitive, over time skin is evened out and tone is brightened. All you need to do is rub the pad well over your face using circular movements post-cleansing. Follow with an SPF, as you will be revealing new, fresh skin, and the whole idea here is to keep it all lookin' new 'n fresh, right?
Obviously, brightening and hyper pigmentation-treatment products are, as Hansel would say, so hot right now,  and if the whole moisturising cream or serum malarkey doesn't really appeal, then this might. I like the sound, I have to say, and am bugged by my patches of pigmentation on my brows and cheek bones. Twice a week doesn't seem like a terrifically hard routine to follow either, does it?
Advertised
Would you give something like this a go? If so, you'll find the product on counter from tomorrow.