 This week I have to share one of my all time favourite go-to products. This is one of those essential products for prepping and priming skin before applying make up. What is it? Why, it's Pixi Glow Tonic, an oxygenating, exfoliating facial glow tonic which helps to tone, firm and tighten the skin and it removes dead skin cells for healthier looking skin.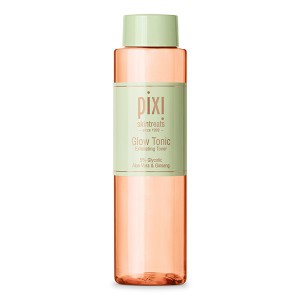 It is suitable for all skin types including sensitive skin and skin prone to breakouts and congestion, and the best part is that it's alcohol free, which is especially amazing for this time of year when a lot of us suffer with dry patches. Dry patches occur with extreme changes in temperature, so in winter when we're hopping from the cold outdoors to central heating, the skin gets a fright and reacts.
Pixi Glow has a glycolic acid component of 5%, which exfoliates the skin's surface, leaving it smooth, dry patch free and smooth as a baby's bum. The key to a flawless foundation is to make sure the skin underneath is prepped to perfection and with this product, you can guarantee it will be. The only thing to be aware of is that it will make the skin especially sensitive to sunlight, so you have got to wear an SPF. Don't over use the product either; like with any exfoliating product, less is more. Use it sparingly - three times per week is more than enough. Be extremely careful around the eye area too.
Advertised
This absolute must-have is available from Marks and Spencer for  €24. If you haven't read our original article check it out here.
Have you tried any of the Pixi range? Let us know your thoughts.