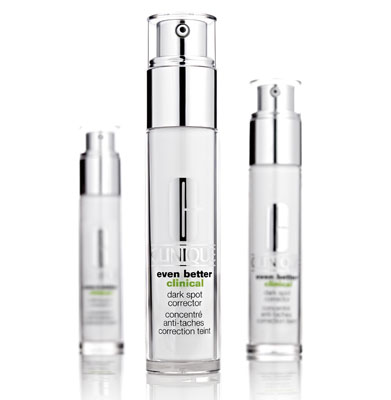 An alabaster skintone is so hot right now, Hansel from Zoolander would (most likely) say. Cate Blanchet, Nicola Roberts and Anne Hathaway are all poster girls for the shift away from tangoed tans and more and more brands are bringing out skincare lines to lighten, brighten and diminish the appearance of hyper-pigmented skin. So we thought you might like a little background on  Clinique's Even Better Clinical Dark Spot Corrector, €58, which is currently exclusively at Brown Thomas stores, going nationwide from May.
Last summer, I headed off to London to meet with Dr Tom Mammone, Clinique's executive director of research and development, before the launch of a companion moisturiser to this serum. That product was Even Better Skintone Correcting Moisturiser, and you can check out the details and the science behind it.  At the time, it was joined on counter by an Even Better Skintone Corrector serum. That's now gone from the range to make way for the new and improved Even Better Clinical Dark Spot Corrector.
With better ingredients, new science and clinical trials to back it up (a verified 53% improvement in skin tone after using it for 12 weeks, the brand says), the product is a super-charged version of its predecessor, and is designed to be used twice a day before the companion moisturiser. You can even follow that with a targeted foundation, Even Better Makeup, for a triple-whammy against age spots and pigmentation.
Advertised
At the moment at Brown Thomas, if you buy the serum, they'll give you a deluxe sample of Even Better Moisturiser worth €26 (it's normally €52), so you can check out the dual benefits of the regime. Interested? Get thee to your local BT store now, as the offer only applies while stocks last.