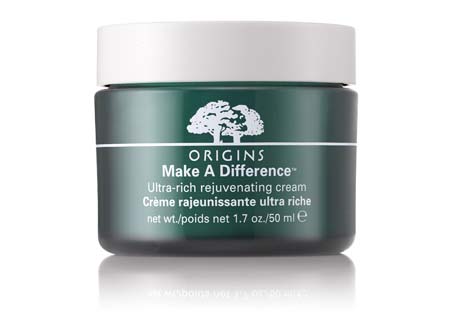 It went on counter a couple of weeks ago, but I got my grubby paws on a jar of Origins new and fab facial moisturiser, Make a Difference, pre-launch. Billed as a product to "help to repair and rejuvenate the appearance of damaged and dehydrated skin", I knew this was one my dry visage would go for.
On a trip to NY last month, when it was seriously brassers and I'm still descaling the skin on my arms after the chilly winds, my face came home in perfect nick, and I think this little pot of goodness had something to do with it. Containing Rose of Jericho (a "resurrection" plant that can survive and thrive after decades of drought) and Sea Haricots (a brown algae rich in Vitamin C and anti-dehydration properties), this is pretty much targeted for anyone who needs to intensely moisturise their skin for whatever reason - post sun holiday, slap it on. Apres ski, it's ideal. Just got very dry skin? Keep a pot to hand.
At €43.50, it's not cheap, but it is worth it. Origins are on the way back with serious skincare - for years they've been my go-to brand for bath and body goodies, but with the exception of Modern Friction and Youthopia Firming Eye Cream which I use regularly, I've found their skincare to be sometimes too harsh for me, despite its divine scent.
Advertised
This though? Unlike the brands's A Perfect World moisturiser, which rolled off my skin in dirty chunks, this stuff sinks in immediately, smells delicious, and keeps skin comfortable all day. No SPF makes it better for me for use at night, and it's joined by several companion products, including a sheet mask, hand cream and a treatment for oily or combination skins.
Get Beaut.ie Delivered
Stay updated with Beaut.ie newsletters full of the latest happenings at Beaut.ie as well as great offers and things we think you might find interesting .