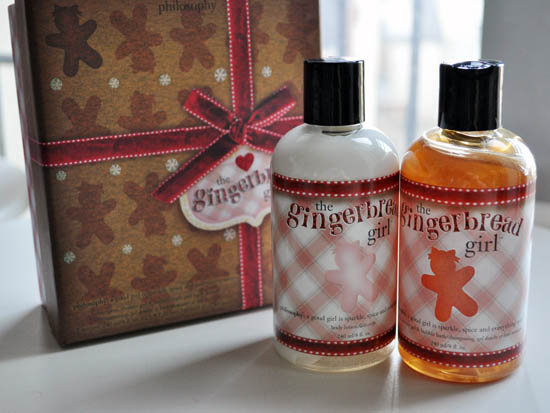 This gorgeous (and asseptably) sweet treat is one of the nicest beauty gifts I've come across this year. And even if you've left your shopping till the very last nanosecond and are frantically trying to get it done, this is the kind of thing that's easy, but still makes a great present someone will appreciate and not think you didn't put effort into.
In fact, someone I know (someone who might possibly also be closely involved in the running of this website) is, uhum, probably going to be getting it in her stocking in about a week's time.
Moving on!
Advertised
The Gingerbread Girl Collection from Philosophy is at Arnotts (heads up, the brand is also at Liffey Valley Boots) and contains one of its classic shampoo, shower gel and bubble bath combos in a 240ml size. This has a sparkly shimmer and smells of gingerbread. I LOVE gingerbread, so this is good. The body lotion follows suit in size and scent. The damage? A very doable €22.50, I reckon.