 Skincare fanatics (and fans of skincare savant Caroline Hirons) will be familiar with Pixi Glow Tonic. It's a brilliant 5% glycolic acid toner that isn't stocked in Ireland, but is available online. If you're not using an acid toner, you should be. Read why  here.
Every time I'm in London, I head into the Pixi store to stock up on Glow Tonic. My last bottle was down to a few drops. When I went into the Foubert's Place store, the assistant told me that they'd just launched their spanking new Pixi Skintreats range. Crushing the weird squirelly noises of excitement that wanted to burst from my lungs, I quickly got down to the work of sniffing, reading labels, and slathering myself in various unguents.
All of the products look great, and for a full perve on them, head to www.pixibeauty.co.uk/skintreats
I picked up my beloved glow tonic (of course), which costs £18, but also one of the new products - Pixi Glow Peel Pads. Glow tonic has a concentration of 5% glycolic acid, which is generous but unlikely to cause any irritation.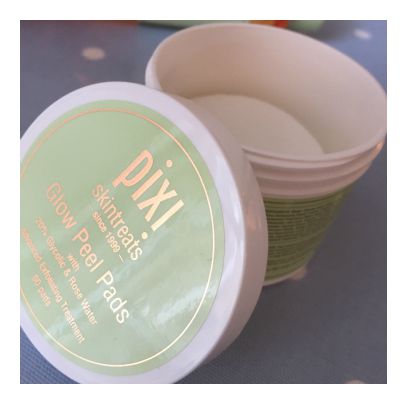 At 20% concentration, the glow pads are four times as strong as Glow Tonic. At £24 for 60 pads, they are relatively reasonably priced. Unfortunately for us, the exchange rate is currently not at all in the Euro's favour, so you will end up paying what feels like a lot more. Add to that the flat international shipping fee of £14.50, and the price really adds up. However, if you find yourself on a trip to London, or have family there, you can save yourself a bit of money.
Advertised
Pixi say that the pads are for daily use at bedtime, but I prefer to keep them to use two or three times a week. Sweep a pad onto clean skin, leave the skin to tingle for two to three minutes, then rinse with cool water to neutralise the peel. You can also use these on the backs of hands and on the neck and chest, though do be aware that glycolic acid sensitises your skin to the sun, so using a high protection SPF is absolutely essential.
If you haven't used gloycolic acid before, it's wise to start with a lower concentration product - an acid toner or glycolic cream - in order to acclimatise the skin. Otherwise, you could end up with a skin reaction.
The pads smell strong enough to make a horse sneeze, but they work brilliantly. On my next trip to London, I'll be back to the store for more!
Are you a Pixi fan? And do you use glycolic acid in your routine? To the comments!