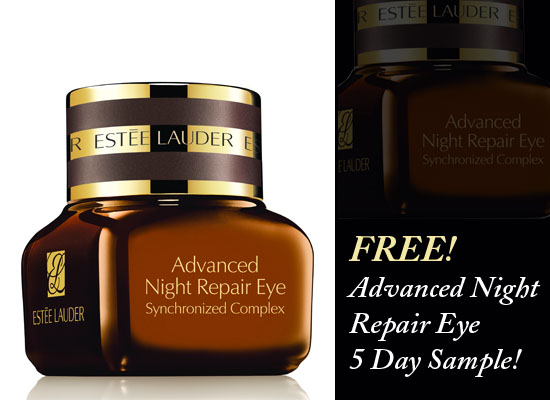 We love a freebie.
We love a new product.
We love Advanced Night Repair, Estee Lauder's acclaimed evening-time wünder-potion.
Needless to say, a combination of the above three things, culminating a chance to try the new Advanced Night Repair product, is something that's guaranteed to please.
Advertised
Joining the Lauder line-up today is another shiny brown pot of goodness: eyes are the next thing targeted by this high-tech range. Overhauled last year, it's now Advanced Night Repair Synchronized Complex, and is the sort of product beauty editors and skincare junkies get breathy about and for good reason: it's a sciency brown serum you slap on before bed and it works over time as you sleep to betterise your complexion.
The eye product promises more of the same, except with a texture and formula suited to the more delicate skin around your peepers. I'm of the opinion that until you really need more - and you're using the right moisturiser for your skin - you probably won't need a separate eye cream until it starts to become obvious your routine needs to be cranked up a notch, with the appearance of puffiness, dryness etc. I'm (sadly) at that stage now, and after years of Not Really Seeing the Point of Eye Creams, the sight of my encroaching crows feet in bright light and mirrors are changing my opinion on eye creams rapidly.
Handily, I reckon this isn't a product aimed at a younger audience anyway; think 35 plus, given the price-point (€49) and what it's designed to do. It's always good to try before you buy though, eh? Here comes the freebie bit: TODAY only, from 4pm at Estee Lauder counters nationwide, you'll be able to pick up a FREE five-day supply of Advanced Night Repair Eye, exclusively available from 4pm this afternoon. Get in quick - the offer only runs today, only while stocks last, and is limited to one sample per customer.
There's more: if you buy Advanced Repair Eye, you'll get a 7ml Advanced Night Repair Synchronized Complex sample for free - that's a ten day supply.