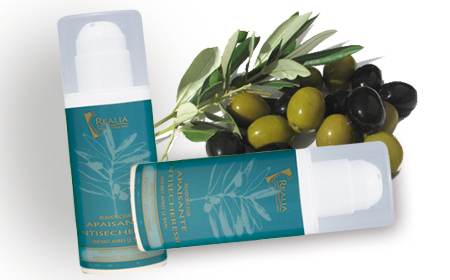 I always like to hear about neighbourhood beauty salons. While there's no doubt it's ace to take yourself off to a posh spa for a bit of luxuriating, it's equally good to support local business. Gals in the Dublin suburbs of Glasnevin, Swords and Raheny may well be familiar with Slender Health, a trio of salons who offer treatments from brands like Thalgo, Dr Daniello and St Tropez, as well as Novalash extensions and laser hair removal. They also offer skin treats using a line I'd never heard of before, Realia.
An Italian naturals-based brand formulated using skin-friendly olive oil, I thought it sounded worth a try, so I headed off to Glasnevin to give the anti-aging mini facial a whirl. A relaxing rather than deeply cleansing skin treatment - there are no extractions, for example - I drifted off as rosemary-scented unguents were applied to my face and light massage was used on neck and shoulders. There are a couple of nice touches here - the treatment includes a foot and leg rub and cleverly, two masques are applied facially, using an opportunity many salons fail to take advantage of during this process: eyes were treated to a separate masque, which felt nourishing and soothing.
Advertised
The Realia anti-aging mini facial is available across all three salons and costs €40.