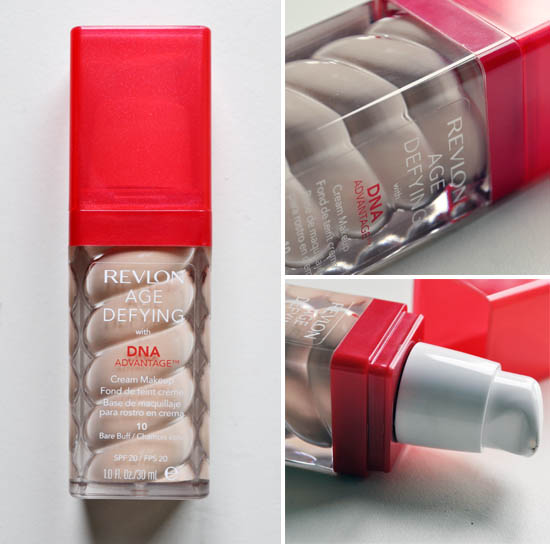 This was a recent UK whim-based purchase, picked up at the same time I bought the Boots Botanics Organic Cleansing Balm. "Oooh," I thought, "doesn't that look fancy with it's faux double-helix and jaunty red cap." And so into my basket went Revlon Age Defying with DNA Advantage Foundation, €19.99 (it's only £13.99 in the UK, by the way).
This was a total impulse spend: a scan across the shelf in Boots ascertained that this is for a more mature skintype so my quick calculations meant that I presumed it would be dewier and lighter coverage than ColourStay, for example.  The shade range was decent too, with eight on offer and 10 Bare Buff, the colour I got, is the second in the register, so there is a paler shade if you're even more ghostly. It's absolutely perfect for my skintone. I wondered about the DNA thing - fancy anti-ageing gubbins? New ingredients? It was enough to get me to spend.
There are, however, a couple of things about this I'm glad I didn't know pre-purchase, because I wouldn't have bought it.
A) it's touted as a full-coverage makeup. YARGH! I hate full coverage anything. Least of all blouses, wha?
I mean seriously, I don't know what the deal is - ok, actually I do. There's something about ageing that's a bit like putting on weight: gaining a few pounds makes you want to don a muumuu to hide your muffin top, but really, all that does is make you look like a shapeless lump. You're better of wearing clothes that fit; we all know the drill but it's hard to follow the advice.
Full coverage foundations on ageing skin are the muumuus of the makeup world -  and they are not flattering.  A lighter, dewier coverage is actually better to skim cracks and reflect light, with a little extra concealer where you need it to take down redness and mask dark circles.  It's hard to break out of the comfort zone of the makeup mask and try it though, I know.
Anyway, as it turns out, this doesn't actually deliver full coverage in the way I know and am scared of it: that matte, dead, zombie-like flatness which makes me look half-way to six feet under. I need a bit of dewiness to look alive and happily this has it.
Advertised
So, it's not brilliantly marketed but don't let that necessarily put you off - the finish is good. It's more than medium, but it's creamy and lightly glowy and enlivening. I like it.
Now, B). The DNA thing. Oh you know this ain't gonna be good. It's not. "DNA Advantage" tootles the tagline on the packaging, with small writing on the label claiming "complete coverage makeup with anti-ageing skincare." The, ahem, advantage to your DNA is delivered by an SPF20 and some antioxidants in the form of vitamin E, basically.  Oh, er, well done lads ...  methinks Revlon has slightly overplayed its hand here. This is the kind of claim that really pisses women off, isn't it?
Like, just let this be a nice creamy foundation for aul wans (and me) with some SPF and we'd all be happy and no one need feel that their DNA didn't get enough of a look-in, and thusly write letters to the Advertising Standards Authority.
Anyway, here it is: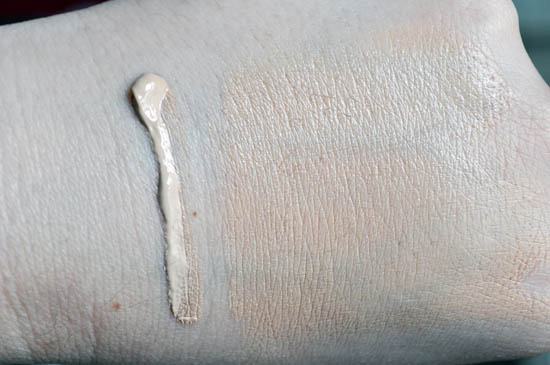 While it looks like it's blending out a little orange it doesn't - pinky swear. Here it is on my very own face as further proof and evidence: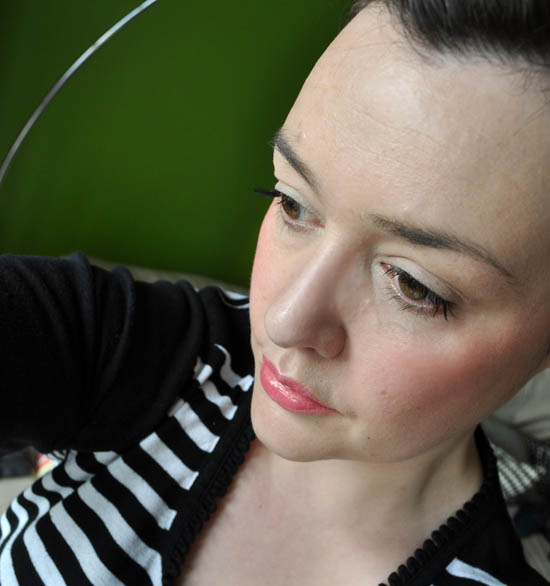 Advertised
There you go - for day I'm liking this a lot, it's fitting in nicely with the other sort of things I'd use for the nine to five, like Max Factor Xperience or YSL's Perfect Touch. It lasts well, doesn't cling to dry patches and so despite exaggerated claims and scary coverage estimations aside, this is nice and worth a punt for dry-skinned types looking for decent coverage. Yup, I'd say I'd recommend with cautions!